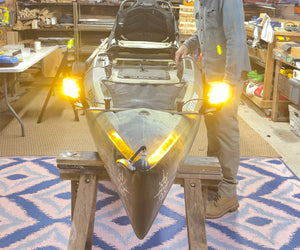 How to Setup Your Kayak for Flounder Gigging
As the popularity of kayaks continue on an upward trend, we are receiving more questions now than ever regarding how to best setup your kayak for flounder gigging. 
Kayaks are small and lightweight, so the main objective you want to conquer is minimizing weight while maximizing performance. Another-words, choose a flounder gigging light that is multi-functional (serves more than one purpose) and can run on smaller batteries (small batteries weigh less).
Flounder Gigging Light Setup on Kayak
Thanks to one of our kayak flounder gigging customers, Kevin Vlaun, we are able to share his setup of 2x Mini Swamp Eye Submersible Flounder Gigging Lights mounted to the front of his kayak. 
Mounting the Mini Swamp Eye Submersible flounder gigging lights above water on the front of his kayak is beneficial in the following ways:
1. The Mini Swamp Eye Submersibles can be used above or below water. If the kayak takes a big wave, they are waterproof so it will be ok. If the kayak rolls over, the lights will still be ok but your battery and electrical may not be. Be safe on open water in a kayak!
2. The Mini Swamp Eye Submersibles are very bright and provide a wide flood at approximately 6,000 lumens in output. This allows them to help you see flounder, but also helps you see what's ahead when you are kayaking and allows other boats to see you. 
3. Mounting 1 on each side of the kayak gives you the maximum light spread all the way around the front of your kayak. The more area you can see, the more possibilities you have to see flounder.
4. 2x Mini Swamp Eye Submersibles can run on a small 12V DC battery (30 amp hour or larger - typical small lawn mower battery) for 10 hours or more. If you use an even smaller 10-12 amp hour deer feeder battery, you can still get really long run time of over 3-4 hours.
5. Mini Swamp Eye Submersibles come standard with 10 ft of marine grade wire, which is more than enough to run through the hull of your kayak to keep it out of the way. If you end up needing to extend the wire for any reason, we have waterproof wire connectors with battery terminals for making extensions as well as attaching to different types of batteries. 
If you prefer to use Swamp Eye Submersibles (underwater only) or mount your Mini Swamp Eye Submersibles underwater instead of above water, then you may benefit from utilizing schedule 40 PVC conduit to drop off the side of your kayak and down into the water. Unfortunately we don't have any good photos of a setup like this, so if you decide to put together a setup with schedule 40 PVC feel free to send them to us and we would be glad to give credit where credit is due!
We have even seen use our Boat Adapter Poles for Underwater Lights on kayaks, but they have to have something to attach to in order for them to work properly. The clamp on our boat adapter pole opens to 3 inches. In some instances, you may need to mount something to the front of your kayak that the boat adapter pole can clamp onto. A piece of wood / lumber would work, or as this customer did on his gheenoe, you can fabricate a piece of aluminum for it to mount to. 
This customer opted for the trolling motor bracket for underwater lights, but ended up having to extend the trolling motor mount further out when he mounted it because when he would turn the trolling motor towards the boat, it would hit the side of the boat and rub. So he added a 2x4 to lengthen it out. However, if he was using our boat adapter poles it would not be an issue. As we get more photos we will update this article. 
We encourage you to send us your kayak setups for flounder gigging, we would be happy to post them! The more ideas we have, the better we can help others who are figuring out how to best setup their kayak for flounder gigging. 
If you want more general mounting ideas - here's some articles on mounting ideas for you Mini Swamp Eye Submersible or Mounting Ideas for Your Swamp Eye Submersible Lights. 
---