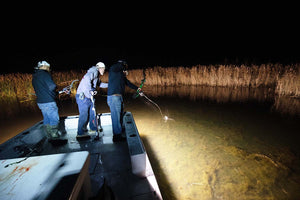 Hunting, Bowfishing & Flounder Gigging Equipment
Outrigger Outdoors is the premier manufacturer of high-quality bowfishing and flounder gigging equipment as well as hog and predator hunting light systems. With lines of fishing lights built for bowfishing, flounder gigging, hog hunting and coyote hunting, we have the field-tested lighting solutions to give you the edge on your next fishing or hunting outing. View our line of premium Swamp Eye light bars and submersible flounder gigging lights or our long-range Predator Cannon hunting lights. With bowfishing equipment unrivaled by anyone else, our powerful lights make night hunting and fishing easy; illuminating the entire area surrounding your high rack or fishing boat for the best possible visibility—even on dark nights and muddy waters. Process your catch with our selection of fish and game processing equipment. Our fish and game vacuum sealers and quality VG 10 fillet knives are second to none in terms of quality.
Get in touch with us to learn about the full range of fishing lights, night hunting, bowfishing, and flounder gigging equipment we provide. You can also sign up to receive exclusive discounts, hunting and fishing tips, and news on our latest products.