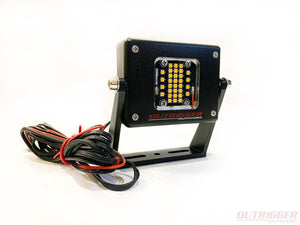 Mounting Ideas for Your Mini Swamp Eye Submersible Light
The Mini Swamp Eye Submersible Lights are a great option for times when you need a light that can run above water, underwater, or is just subject to a whole lot of both. These lights are extremely resilient and are very bright for their compact size. Their low power draw makes them perfect to mount on any boat or even a flounder gig pole for wading and gigging. We've even seen people run these swamp eye flounder lights off the back of their boat to light up the wake behind them. The options are endless with these tough, compact, and bright LED lights. 
Scroll down to the bottom to see photos of mounting ideas for the Mini Swamp Eye Submersibles. 
Wading and Flounder Gigging Light
One of the most common uses for the Mini Swamp Eye Submersible is for walking the shore gigging flounder. It can easily run on a 12V deer feeder battery for a night of sticking fish. It can be used above or below water, and the bright light works great for lighting up flounder or for helping avoid stepping on stingrays or foreign objects. 
Flounder Gigging Boat Light
If you're flounder gigging, you may need to run lights both above water and below water. The Mini Swamp Eye Submersible is capable of running either way and the compact nature of these lights means they don't take up much space on the front of your boat. 
Bowfishing Boat Light
Most bowfishing boats opt for our Swamp Eye Light Bar for bowfishing light, but some will still use the Mini Swamp Eye Submersible because of how compact they are. For similar reasons, we've also had customers mount our Mini Swamp Eye's in tight-fit spaces where they happen to have shadows with their current bowfishing lights. Another common mounting method for bow fishermen is to mount them to their trolling motor with a 1/4-inch U bolt to give them a better underwater view. 
Photos of Mounting Ideas for Mini Swamp Eye Submersible Lights: 
---
13 comments