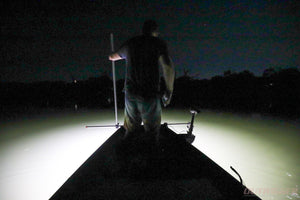 Mounting Ideas for Your Swamp Eye Submersible Light
The Swamp Eye Submersible Flounder Gigging Lights are second to none in terms of bright underwater LED flounder gigging lights. Our flounder gigging lights are designed for under water use only and they pack one heck of a bright color tone adjustable beam. Our swamp eye submersible flounder gigging light is most commonly used for flounder gigging and bully netting, but we've had customers mount one to their bowfishing boats before as well. 
Flounder Gigging Lights
When it comes to flounder gigging lights, there is no better flounder light than the Swamp Eye Submersible. Our Swamp Eye submersible flounder light was designed for the harsh, corrosive saltwater environment, and it's been tested by some of the top commercial fishermen around the world for durability. The protective cover that our swamp eye submersible light comes standard with is literally sledge hammer proof, and was put in place after receiving feedback from commercial fishermen that the lights would be damaged after running shallow and hitting oyster reefs.
Bully Netting Lights
Bully netting spiny lobster in the Florida Keys is quite the adventure, and the Swamp Eye Submersibles will light up your night like you wouldn't believe. The Swamp Eye submersible light is the go-to for many commercial bully netters, primarily because they hold up year after year. We typically see bully netting boats put 2-3 Swamp Eye Submersibles on the front of their boat and many of them will utilize our removable boat adapters or our trolling motor brackets to mount them to their skiff. 
Bowfishing Lights
The Swamp Eye Submersibles are used on some bowfishing setups, but the Swamp Eye Light Bar is more commonly used. The submersibles work great as added light to mount onto your trolling motor shaft with a 1/4-inch U-bolt. This is the most common method of use we see for bowfishing boats. 
Photos of Mounting Ideas for Swamp Eye Submersible Lights:
Here are photos of Swamp Eye Submersibles mounted to boats, used for wading and gigging, mounted to paddle boards and even trolling motors. 
Boat Mounted Swamp Eye Submersibles
  

 
           
                    
   
Wading and Gigging Setups

         
Swamp Eye Submersible Mounted to Paddle Board
    
Flounder Gigging Light Mounted to Trolling Motor
     
---
1 comment