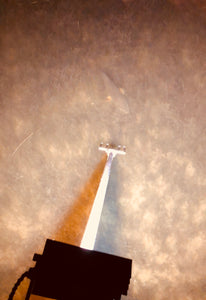 Handheld Flounder Gigging Lights for Wading and Walking
When searching for a quality light to walk and stalk and flounder gig, there are three important aspects to consider that are often overlooked. The most common wading light setups are made with small submersible LED chips that shine in one direction, and some of the old fashioned fellas even use lanterns. We are going to discuss why these walking setups are not efficient on locating your prized fish and why you should reconsider the way you set up your lights. 
If you want a complete handheld setup for wading and gigging - you can purchase the wading and gigging combo: flounder gig and light. 
Illuminate entire wading area with maximum light spread
When you are gigging flounder at night, you want to light up the entire area around so that you can maximize the amount of fish you can see at once. This is good for spotting flounder you otherwise would not see, but it is also good because you can locate dangerous fish such as sting rays or venomous snakes that may be out on the water. The more area that is lit up, the more flounder you see and the more aware you are of other fish surrounding you. 
High Brightness LEDs for Spotting Flounder while walking
Similar to the previous point, you want to maximize the brightness of the lights you are using. Most conventional LED lights are 80-100 lumens per watt and are made in China. There are more efficient options available such as the Swamp Eye Flounder Gigging Lights which are 140-160 lumens per watt. Lights such as these can draw less power while outputting significantly more lumen brightness. This will make for longer, brighter trips of gigging at night. 
Portable power for wading anywhere
Most portable gigging lights have similar power supplies - they are usually able to run off small 12 volt portable deer feeder batteries. A typical 7 mAh battery that you can purchase from Academy Sports and Outdoors or a similar local retailer will last you all night long on a light such as the Swamp Eye Flounder Gigging Light.
We strongly recommend steering clear of any flounder gigging light for wading that runs off AA or AAA batteries. These batteries cannot supply enough power for lighting up a quality light, most lights supplied by these batteries will not output any more than 1,000 lumens. On the contrary, utilizing a small 12 volt battery, you can use a lights such as the Swamp Eye Flounder Gigging Light which outputs 19,500 lumens, equivalent to almost 20x the light output of the comparable light for wading. 
Conclusion: lights to use while wading and flounder gigging
In summary, do your research to make sure you are well aware of all your options. Understand that if the light is powered by AA or AAA batteries, you are going to be making a huge sacrifice on the brightness fo the light. If you consider an option that can run on 12 volt batteries, that expands the opportunity for more brightness.
We recommend the Swamp Eye Flounder Gigging Light for wading and gigging due to the ability to adjust the color tone, the extremely high brightness, and the portability for wading and gigging. These lights are the best in the business and are sure to light up the entire area around you to increase the amount of flounder you see at night. 
Make Your Own Setup for Walking and Gigging
You've got an idea of what you need to light up the water for walking and flounder gigging at night, now it's time to put it all together. Here is a step by step process which explains how to make a wading and gigging light setup.
Buy a Make-Ready Setup for Walking and Gigging
Skip the hassle of making your own wading and gigging setup by purchasing a wading and gigging combo: flounder gig and light. 
Whether you are on the market for a flounder gig or flounder gigging light, Outrigger Outdoors' selection of flounder gigging equipment is second to none in terms of strength, enhancing water visibility, and overall quality craftsmanship. 
---
1 comment