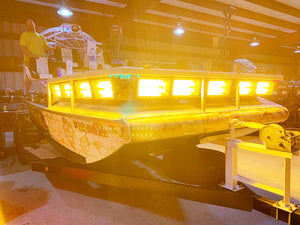 160W Swamp Eye® HD Bowfishing Light: Everything You Need to Know
Whether you're a Swamp Eye® Light Bar or Swamp Eye® Submersible user, or even totally new to the Swamp Eye® series of lights, there is one undeniable fact: the new 160W Swamp Eye® HD Bowfishing Light is unlike anything you've ever seen or experienced before.
Table of Contents
Re-Designed from the Ground Up
A Brighter, More Efficient Bowfishing Light
Optimized Color Tone Adjustability
All-New Building Block Wiring Harness
Tested & Proven By the Industries Best
Our Inspiration
The inspiration for the 160W Swamp Eye® HD Bowfishing Light was to have one light that could increase visibility in any water condition. Whether you're flounder gigging on the Gulf Coast or bowfishing lakes and rivers across the Nation, the Swamp Eye® color-changing bowfishing lights can adjust color tone to penetrate clear or muddy water, anywhere. 
Over the years, this inspiration has grown beyond just color tone adjustability. It has grown to create the best lights for your bowfishing boat that promote a better user experience. We are chasing a flounder gigging and bowfishing light that is user friendly from the moment you unbox it and start mounting it to your boat, yet still has the ability to cast more brightness than anything you've seen before.
We desire an easy installation process; the ability for customers to quickly adjust their wiring setup, so nothing is permanent. We desire a light that can run on batteries or a small generator yet has an output comparable to ultra-high wattage lights such as High Pressure Sodium or Halogen bulbs. We desire a light that is not only extremely efficient, but also power flexible so it can easily switch from battery to generator. We desire a wiring harness that is not only plug and play, but has high resistance to saltwater environments. 
Re-Designed from the Ground Up
The task? Doing what seemed impossible.
A significantly brighter light that doesn't require an enormous generator.
Adjust color tone for different water conditions.
Easy plug and play installation that is saltwater resistant.
Compatible with battery or generator
A Brighter, More Efficient Bowfishing Light
We found that increasing efficiency is ultimately what our customers strive for, they just aren't aware that it's the solution to their problems. Unfortunately for us, increasing efficiency is single-handedly the most difficult task to accomplish. 
In order to accomplish our goal of being as close to 100% efficiency as possible, we had to think differently and start from ground zero.
The guts of the light were completely overhauled; re-designed from the power distribution to the control board, to even the LED chips themselves. 
What Drives Efficiency?
In lighting, efficiency is driven by quality components, materials, and circuit board design.
Conventional power factors for most outdoor lights, lower-end flounder gigging and bowfishing lights range from 40% to 60%.
Conventional power factors for higher-end flounder gigging and bowfishing lights range from 70% to 85%.
"Power Factor" refers to how much power is actually turned into light compared to how much is drawn.

A 200 watt light with a 70% power factor means it draws 200 watts of power, but only turns 140 watts of it into actual light output.
How Efficient Did We Get?
The 160W Swamp Eye® HD Bowfishing Light achieved an efficiency of 99%. The light output of this 160W bowfishing light is comparable to most 200-250+ watt LED lights, while it requires significantly less power. Lights such as metal halide, halogen, or high pressure sodium are significantly less efficient. Our 160W Swamp Eye HD would compare to a 350-370 watt high pressure sodium, and is comparable to 400+ watt metal halide or halogen bulbs in terms of brightness. The biggest difference is you get a full spectrum from warm white to cool white at this brightness.  
Optimized Color Tone Adjustability
The Swamp Eye® Lights are the pioneers of color tone adjustability. The ability to maximize visibility in clear or muddy water isn't new to us, but maintaining high lumen efficiencies during our re-design was a major task for us to accomplish with our 160W Swamp Eye® HD Bowfishing Light. 
To accomplish this goal, we had to re-engineer the way our colors adjust and optimize our circuit boards for better electrical flow. In addition to this, we honed in on the most usable color temperatures that are commonly used to penetrate waters across the nation. 
Whether you're chasing alligator gar on the coast of Louisiana, flounder in Texas, bully netting lobster in Florida, sneaking up on bigheads in Indiana, gigging suckers in Missouri, or trailing big buffalo in Minnesota, the color temperature spectrum is optimized for any and all water conditions you may experience. 
Power Flexibility
Similar to our Swamp Eye® Light Bars, the Swamp Eye® HD Bowfishing Lights can run on battery or generator. They are capable of running 24V DC only, or they can run on a 110/120V AC generator output. Unlike the light bars, however, the ability to switch between battery and generator is done with re-designed saltwater resistant plugs that are more user friendly and will hold up better, for longer. 
Easy Installation
In the past, if someone wanted to adjust the color tone of multiple lights by one single dial, we had to permanently customize their harness by soldering control leads together. This was timely, cumbersome, and tough on customers who weren't sure on how they wanted to setup their boat.
One of our first tasks in the re-design of our lights was a plug and play system that was made of user friendly waterproof connections, so no permanent customizations or soldering were required. This lead to the all-new building block wiring harness.  
All-New Building Block Wiring Harness
The building block wire harness is made of units that can be assembled, swapped, re-assembled, in any way shape or form to run all your boat lights on one dial, or even run the lights on the left side by themselves or lights on the right side by themselves, or run everything from the center console or any other configuration you can imagine. This can all be done in seconds and in the event you change your mind and want to re-do your controls, it's easy to do within a matter of seconds. 
Here's a Complete Guide to our Building Block Wire Harness, including examples of how to set it up. 
5 Components:
Tested & Proven By the Industries Best
We've partnered with some of the best guides and tournament fishermen in flounder gigging and bowfishing during the design and development of these lights. One of the most crucial aspects is not only developing a new product that has the desired features we all want, but one that will withstand the tough environment our customers put them in on a daily basis. 
These lights took us nearly 2 years of continuous research and development to start from ground zero and end up with a usable product that did what we want.
It was a grueling 2 years. We tossed the design of our previous lights out the window and started from nothing. The only thing we hung on to was the feedback we have received from all of our lights over the years and ultimately designed one light that could do it all.
Whether you're planning to use them in freshwater or saltwater, we can say with confidence that our guides and tournament fishermen have put the hours on them to prove their performance and durability in the elements. 
To see how others have mounted these lights to their boat, check out our Mounting Ideas for Swamp Eye® HD Bowfishing Lights.
---
4 comments