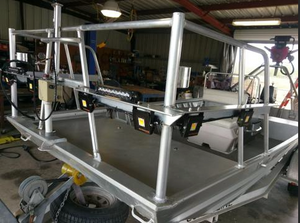 Top Bowfishing and Flounder Gigging Light Setups
The light placement and quantity depends on the length and width of the boat, whether you are bowfishing or flounder gigging, and how many people are going to be with you. Ultimately, you can run as many lights as you want but if you are limited on power and budget, it's important to understand how to maximize your lighting efficiency. 



SMALL JON BOATS / RIVER BOAT SETUPS (10-16 FT)
Most small river boats vary in length from 10 ft to 16 ft and vary in width from 36 inches to 70 inches in width on the higher end. These boats are small and compact, which work great for bowfishing narrow rivers and streams as will as gigging bays for flounder and sheepshead. We recommend one light up front in each corner, mounted at an angle for maximum exposure. similar to the picture below. When angled, the light will illuminate a large area in front of the boat and on each side, making the most of your purchase. 
MEDIUM SIZED JON BOATS (18-20 FT)
The medium sized jon boats range in size from 18 ft to 20 ft length and can range in width from 48 inches to 96 inches. These boats are a little big for the small rivers and streams, but make for a much more comfortable ride on the larger bays, bayous, rivers, and lakes. The placement of lights on this size of boat varies from customer to customer but the most common setup we see is 2-4 lights mounted up front, with 1-2 lights mounted on each side. Some of our bowfishing customers will only put 2 lights up front and will run 3-4 lights on each side, since they typically shoot to the side of the boat rather than the front. Below is an example of one of our customers boats.
 
LARGE / COMMERCIAL SIZED JON BOATS (22+ FT)
The large / commercial jon boats make for a very comfortable trip out on the bays and lakes and are typically 22 ft and greater in length. The widths are usually custom, range from 60 inches to 108 inches or more. The budget and brightness with these type of boats is usually no budget but maximum brightness. Thus, we try to fit as many lights as possible on the boat. If you have a boat this sized and are still trying to maximize efficiency, we recommend 2-3 ft spacing of lights around the boat. 
---
1 comment