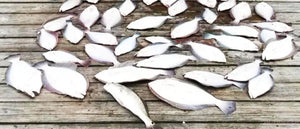 The Fall Flounder Run & Exciting News From Outrigger Outdoors
We've been busy behind the scenes and haven't had a chance to continue with our blogs lately. This week we made sure to set aside time to talk with you guys about what's to come here at Outrigger Outdoors with our flounder gigging and bowfishing equipment, as well as the start of the beloved Fall season. 


This weekend (Saturday, September 22, 2018) marked the official first day of Fall. Not only does Fall mark the opening of hunting seasons, it also marks the prime time for flounder gigging. 


The Fall flounder run is the most opportune time all year for fishermen to catch or gig flounder. The cause of the flounder run is due to hormone driven females to pile up along points and passes on their way out to the Gulf of Mexico to spawn. Whether you are a professional guide or amateur flounder gigger, your chances of gigging or catching flounder are significantly higher this time of year. Make sure you are prepared with good flounder gigging equipment and a quality flounder gig that can take the abuse associated with gigging a bunch of fish and the mistaken rocks that come along with it. 


Apart from the the exciting Fall season, we have some great news to share only with YOU, our subscribers! 


Here we go...


One of the most common points of feedback we've receive from you guys is that you really like the color tone adjustment feature on the Swamp Eye Lights, but there are three things we've been told people want us to improve on:


1 - They are not fully submersible

2 - They are very bright above water, but there is a lot of wasted light going to the sky that should be re-directed to the water. 

3 - They are only capable of running on 12 volt. It would be beneficial for them to be capable of running on 12 volt DC or 120 volt AC to run on a generator. 


We've been silent the past month because we've been designing, prototyping, and then re-designing lights that will satisfy these criteria. We are happy to announce that we have new lights that should be available come mid-October, although we haven't set an official date yet. We have broken the Swamp Eye Light up into two styles: 1) Above Water and 2) Submersible, Below Water. 


1 - Above Water Swamp Eye Lights


The new above water Swamp Eye Lights utilize new, even higher efficiency LEDs, with a light bar layout that broadcasts a large flood towards the water while minimizing the amount of light that is wasted to the sky and surrounding areas. The above water lights are still color tone adjustable and they're also 15,000 lumen. On top of all of this, the new Swamp Eye Light Bar will come with the option to run on BOTH 12 volt DC and 120 volt AC. This way, you can run the light on a 12 volt battery if you want to stay quiet or you can switch over to a 120 volt generator in the event your battery runs low. However you decide to use them, our flounder gigging lights can also be used as a piece of bowfishing equipment to light up the water.


2 - Below Water Swamp Eye Lights


The new below water Swamp Eye Lights also utilize new, even higher efficiency LEDs, on an even more compact housing. The new lights will increase in luminosity from 12,000 lumens to over 18,000 lumens. The flood beam is still 180 degree beam, since it is below water, we want to light everything up. The submersible lights are color tone adjustable and come with longer leads to hook directly up to your battery or boat wiring harness. 
The new lights, both above water and below water, will draw 120 watts. As you already know, a 120 watt light from us is not comparable to a 120 watt light from anyone else. We use high efficiency LED chips specifically designed to maximize luminosity while minimizing power draw. The conventional LED chip will illuminate 80-100 lumens per watt. Our new LED chips illuminate up to 160 lumens per watt. This high efficiency maximizes the life of your battery while providing twice the illumination of the comparable light giving you a high-quality piece of flounder gigging equipment. 
For more products to help with your bowfishing equipment and flounder gigging equipment for your next fishing trip, Outrigger Outdoors can help
---