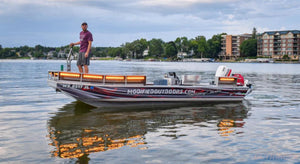 The Best Light Set Up For a Bowfishing Boat
When it comes to setting up your bowfishing boat, bowfishing light placement is key. There's a few different ways you can set your boat up depending on the size of your boat as well as the lights. In this article we'll show you the most common bowfishing light setups our Pro Staff Members and customers use when rigging up their Swamp Eye Light Bars or Swamp Eye HD Bowfishing Lights to their bowfishing boats.
Most of our Pro Staff Members are bowfishing guides so they rely heavily on the performance of our bowfishing supplies. . 
Our Swamp Eye Light Bars are 24" wide bolt to bolt on the mounting brackets so the "best" and most common light setup for bowfishing boats we see is two Swamp Eye light bars in front and two on each side of the boat for a total of 6 lights.
Our Swamp Eye HD Bowfishing Lights are 12" wide and 6" tall, yet output twice the luminosity as the Swamp Eye Light Bars. They are our latest and greatest bowfishing lights that are extremely user friendly - even for those that have never wired lights before. 
There are some key features every bowfishing guide considers in putting together their next bowfishing light setup, so let's discuss what the professionals look for when they're building the perfect bowfishing boat setup. 
Key Features to Consider in Your Next Bowfishing Light Setup
Power Flexibility: the ability to switch between power sources 12/24V DC (battery) or 110/120V AC (generator) is great in terms of a universal setup, but also very important in terms of redundancy. I can't tell you how many times our guides have saved bowfishing trips by being able to switch between power sources.
Adjustable for Various Water Conditions: water clarity can change from one area to the next, and the color of your bowfishing lights can determine how well you can see fish swimming below the water surface. The Swamp Eye Bowfishing Lights are capable of adjusting from warm white (2000k, HPS-like color) to cool white (6000k, halogen-like color) for penetrating various water conditions. This is one of many reasons they are considered the best light setup for bowfishing boats.
Low Profile & Lightweight: rreduce the bulk and shed weight with lightweight bowfishing supplies, and you'll be able to get to your bowfishing spots faster and you'll be able bowfish in shallower waters. Low profile lights take up a minimum amount of space and our Swamp Eye Bowfishing Lights weigh a small fraction of the HPS or Halogen counterparts. 
These key features to the best bowfishing lights should be considered when setting up your next bowfishing boat. Between work and life, the "play" time you spend on the water is invaluable. It's best to make the most of that time by putting together the best bowfishing light setup for your boat. See more fish and adjust to what nature throws at you while bowfishing. 
Common Light Setups for Bowfishing Boats
Ignited Design CNC Plasma and Fabrication Services out of Missouri is a frequent buyer of our Swamp Eye HD Bowfishing Lights. The ability to switch between 24V DC and 110V AC along with the color tone adjustability and sheer brightness of the lights is what his customers desire the most. Here's one of his latest builds - featuring 8 Swamp Eye HD Bowfishing Lights. 
Andalusia Marine's newest 20" by 70" boat build is a great example of this. They mounted two Swamp Eye Light Bars to the front and two light bars on each side of the boat.
Having lights on all sides is a popular choice because it eliminates shadows and ensures full visibility for all standing on the shooting platform. 
Capt. Benny with BT Outdoors Bowfishing Charters spared no space for mounting his Swamp Eye HD Bowfishing Lights. He's running 12 up front and 2 in the back of the boat for clean up lights - this might be overkill for most bowfishermen. 
Now, if your boat has a raised platform then light placement is especially important because you have a wider flood range which means there's less chance of shadows between lights. Our pro staff member, Doug Whitehead, made excellent use of his raised platform with his Swamp Eye Light Bars!
For those of you whose boat has a raised platform but the lights are typically underneath we have setup for that as well.
As you can see, there are many different ways you can rig lights up to your bowfishing boat. It all comes down to the size of your boat and where the best mounting surface is. Below are some more examples of bowfishing setups.
Capt. John Laska with No Regrets Bowfishing Charters
13 Swamp Eye HD Bowfishing Lights
Ethan from Wisconsin
Capt. Hunter (Modified Outdoors) from Wisconsin
Bart from Iowa
Capt. Alan Yedor, Southern Style Bowfishing Charters
11x Swamp Eye HD Bowfishing Lights up front, 2 in the back
Capt. Mark Malfa (Big Fish Bowfishing Texas) from Texas
Capt. Eric (Night Moves Gigging) from Texas
6 Swamp Eye Light Bars & 6 Swamp Eye Submersibles
The Swamp Eye Light Bars and Swamp Eye Submersible Lights are both staples in flounder gigging and bowfishing. They are bright, versatile lights that have been proven by the leading guides and tournament fishermen. Whether you're in muddy water, clear water, or prefer running on battery or generator, the Swamp Eye Light Bars are versatile enough to cover it all.  
Like what you see here?
Contact us and we can work with you to light up your boat with proper bowfishing supplies and lights!
---
2 comments