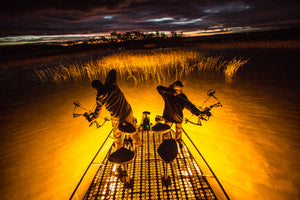 Your Next Boat: The Good, Bad, and Ugly of Choosing 12V DC or 110/120V AC
A hot topic in the bowfishing and flounder gigging space for the DIY-ers and professional boat builders alike is - should I wire my boat for 12 volt DC or 110/120V AC? This question generally pertains to powering the lights you choose to see fish. What are the benefits and pitfalls of doing each? 
We have even come across this question within our own staff here at Outrigger Outdoors. Some of our field staff members with decades of experience were weighing their options on which route to continue down so we are exposing their talking points with the good, the bad, and the ugly of each voltage option. We hope our internal debate is one you can utilize to make the best decision on your boat moving forward. 
SUMMARY
Boats are naturally setup to run off of portable marine deep cycle batteries, which are 12 volt DC. Without getting complicated with converters and generators, this is the most efficient and low cost method of setting up your boat. If you like bowfishing all night long, then you have the option of running a generator but have to implement a converter as well for the 12 volt option.
The catch is, trolling motors don't come in 120 V AC, so even if your lights are 120 V and can run directly off the generator, you are still forced to get a converter for your trolling motor (back to square one). However, if you have a pusher fan and run an alternator on your pusher fan, you eliminate the need for a generator.
The reason boats do not come from the manufacturer rated for 110/120 volt AC is because if you get a short, it is extremely harmful and can electrocute you. This is especially the case for boats made of aluminum. 12 volt DC does not have the electrocution capabilities that 110/120 volt AC does because of how much lower the voltage output is. There is a huge liability and safety concern for boat manufacturers if they pre-wire the boats they produce for 110/120 volt AC. 
DEEPER INTO THE WEEDS
12 Volt DC - THE GOOD
The overwhelming majority of all boats are powered by 12 volt batteries. Setting your next bowfishing or flounder gigging boat up with a trolling motor, lights, navigational lights, horn, outboard motor, etc. on the 12 volt wiring setup is the easiest option to choose without having to implement voltage converters. 
Most LED lights and virtually all trolling motors come with the 12, 24, or 36 volt DC option. These are very easy to setup and operate, as you just add one additional 12 volt battery in series for 24 volt, and add two 12 volts for 36 volt. 
Because the 12 volt option can run entirely off of batteries, there is no need to have a loud generator which often scare off fish unless you plan to bowfish or flounder gig for continuous all night trips (common for those who fish tournaments or guide commercially).
12 Volt DC - THE BAD
The downside to the 12 volt DC option is that for continuous all night tournament or guided trips, the 12 volt batteries are eventually going to run dead. To combat this, you will need an on-board generator or an alternator hooked up to your pusher fan (commonly used in lieu of trolling motor).
Another method of combatting this is to go with a 24 volt DC option instead. You double your voltage, which means you can run more power at the same amperage. 
Most generators have the 120V AC option as a standard option. However, the 12 volt DC option is still common but it is not "standard". In choosing a generator, it is important to choose a generator that is compatible with both 12 volt DC and 120 volt AC. The 12 volt DC generator generally has a lower amp output (~8-9 amps) and they are not made to hook lights or trolling motors directly up to the generator. They are meant to be a battery charging mechanism. So you hook the lights and trolling motor up to the battery and hook the generator up to the battery. The battery supplies power to the lights and trolling motor while the generator supplies charge to the battery. This is efficient but if you are running a whole bunch of lights or run the troller at max power, your amp draw may be too much to last for a continuous night. 
12 Volt DC - THE UGLY
Fortunately, the ugly associated with 12 volt DC is not too terribly ugly. It only pertains to those who are bowfishing or gigging continuously all night long. In addition to supplying a generator, you will have to implement a converter and hook this up to the 120 V AC option on the generator, so that you can supply enough continuous power to power the 12 volt DC lights all night long. A reputable converter is the 100 watt power max converter and retails for around $150 on amazon. This is a relatively low cost for the serious tournament fishermen, but it is an additional cost nevertheless. 
120 Volt AC - THE GOOD
In terms of LED lights, 120V AC LED lights are significantly cheaper than 12V DC LED lights. If LED lights aren't your thing, you also have the option of choosing some of the older generation street lights such as High Pressure Sodium or Halide flood lights to run off of your boat. These lights output a very high initial lumen equivalence. Generator's have the ability to run for a long period of time on a couple gallons of gas.
This is good for those who fish tournaments or guide commercially because they are constantly going and can't rely on a battery to keep them charged. Whether you're using conventional AC bowfishing lights or even DC bowfishing lights, you can still learn how to run your bowfishing lights on a generator. This way they can have a constant source of energy to power their boat.
In the tournament world, generators help keep the boat light to maximize the amount of fish on board. In bowfishing, big numbers tournaments can result in hundreds if not thousands of pounds of fish on board. Added battery weight can put a halt to a successful bowfishing tournament run. 
120 Volt AC - THE BAD
Although 120V AC LED lights are cheaper, they are not able to run without a generator or voltage converter. The alternative High Pressure Sodium lights provide a very high initial lumen output, but over time they will gradually lose their brightness and fade, with an overall life expectancy of less than half of that of their LED counterpart. 
120 Volt AC - THE UGLY
These lights were not made to be put on boats. 120 volt AC lights were designed to be used on streets or as flood lights hooked up to your house. These lights do not do well when they are on a boat that is constantly jarred from hitting waves and being splashed with water, and especially bad with corrosive saltwater.
One of the leading complaints for sodium and HPS lights is the bulbs break so easily. So if you choose to go this route, be prepared with extra bulbs and plan on replacing them regularly. 
HPS and Halide lights are not waterproof, they are weatherproof. This means their housings shield the lights from rain coming down from above. The housing is not designed to shield water splashing directly into the lens.
As previously mentioned, 110/120 V AC is very dangerous if there is a short. This is one of the prime reasons boat manufacturers do not make 110/120 V AC available as a standard option. 
FULL DISCLOSURE: We currently sell lights compatible with both 12 volt DC  and 110-120 volt AC. Check out the Swamp Eye Light Bar, capable of full power flexibility.

Once you're set up with lights, you'll need some light mounting ideas for your boat. 
---
2 comments