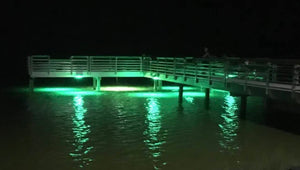 Night Fishing: The Ultimate Guide to Success
As the sun falls, the water cools and fish move into the shallows to feed. Fish are most susceptible during this time, and anglers can fill their coolers after a night of fishing. It seems easy, but implementing the right strategies can determine whether an angler is successful at night fishing or not.
In an effort to help amateur and seasoned anglers find more success while night fishing, we have put together a complete guide to a successful night fishing trip.
The Ultimate Guide to Night Fishing Success
Tactics for Night Fishing Success
Night Fishing with Lights
Baits for Night Fishing
Lure Types for Night Fishing
Night Fishing from a Pier
Night Fishing Bass
Night Fishing for Crappie
Bowfishing at Night
Flounder Gigging
Fish Gigging
What is Night Fishing?
The definition of night fishing is the act of taking a fish from a water body during a time period that spans one hour after sunset until one hour before sunrise. 
Science Behind Night Fishing
It is no secret that night fishing brings more abundant success than day fishing, but why is that so? There are many reasons, with the first and most obvious being that fish come into the shallows at night to feed.  
Fish Feed in the Shallows at Night
The change in water temperature is the primary driver that pushes fish into the depths during the day and brings them to the shallows at night. The predator fish also have a more difficult time seeing at night, which provides more opportunity for smaller pan fish to roam and look for their own food sources. 
High Traffic Fishing Spots Are Under Less Pressure
During the day, traffic from recreational boaters and fishermen can put heavy pressure on water bodies which will push fish deeper into the lakes, bays, and streams. This is one of the most over-looked aspects of most water bodies that is the leading cause of increased night fishing success. 
Night Time Gives Fish a Sense of Cover
While it's true that day time fishing in areas of heavy cover can yield some of the largest fish you'll ever catch, night fishing can boast similar results in open water. The night time gives fish a sense of security because it is harder for them to see, which means it is harder for other fish to see them. It is common to see fish that are notoriously deep water fish come into the shallows because of this. Whether you are in saltwater fishing for sharks, flounder, redfish, trout, or in freshwater fishing for catfish, bass, crappie or any other species, you are more likely to catch bigger fish by night fishing.
Tactics for Night Fishing Success
There are 3 core tactics that can lead to more night fishing success; which include utilizing lights for night fishing, casting the right bait for your target species, and understanding what types of lures work best at night. Implementing a night fishing strategy that uses these 3 core tactics can help you bring in bigger hauls after dark. 
Night Fishing with Lights
The most important tactic to bringing more success while night fishing is to use underwater fishing lights. Fish are naturally attracting to light in a sea of darkness because the light illuminates particles within the water column. These particles are the food source of smaller bait fish, which are the food source of larger bait fish. To simplify things, when a fish see's the bait of its bait, it can quickly determine that an easy meal is around the corner. 
In addition to this, there are certain wavelength of light that fish are more attracted to than others. The most attractive wavelength of light happens to be in the 500 nm range which corresponds to a green color. This is why underwater green fishing lights have become so popular. 
When it comes to choosing a light for night fishing, it is important to understand what to look for on your next night fishing light to make sure you get the most bang for your buck. 
Baits for Night Fishing
There are two types of baits for night fishing: saltwater baits and freshwater baits. When using live or dead bait, it is best to use something that is native to the waters you are fishing. 
Saltwater Baits
A good all-around saltwater bait for night fishing is live or dead shrimp. Shrimp will work for literally any game fish that swims the saltwater bays and bayous. If you're looking to target a particular species, then there could be more variations in bait that can be used which may include piggy perch, croaker, ribbon fish, mullet, squid, among many other saltwater baits. If you're just looking to give night fishing at the end of your dock a shot, then head to the locate bait or grocery store and get you some shrimp. 
Freshwater Baits
The staple of all baits in freshwater fishing are earthworms. Freshwater fish of all species absolutely love to eat fresh worms, giving anglers every opportunity at putting more fish in the boat. The only downfall to earthworms is that it is more difficult to target a specific species. If you are targeting catfish, stink baits and lye soap are both viable options. If targeting bass, smaller perch may be the right choice for you. To keep your options open, though, earthworms will attract any fish that swims by.
Lure Types for Night Fishing
The key to catching more fish at night with lure is to either use something that is natural and looks just like the bait fish of your target species, or use something flashy that catches their eye to make them strike out of curiosity.
The latter is often the choice most fishermen opt for, and is the reason glow in the dark lures have gained in popularity over the years. Glow in the dark lures are the best option for night fishing because they stand out and cause instinctive strikes by larger fish.
Glow in the dark lures can be effective in both freshwater and saltwater environments and are actually best when used in conjunction with underwater green fishing lights. The lights will "charge" the lure to give it an even more bright, distinctive appeal. 
Types of Night Fishing
There are many different types of night fishing, which can vary depending on your budget and location. Most types of night fishing can be done from the shore or a dock or pier, while others are best if done from a boat. Let's dive a little deeper into the different types of night fishing. 
Night Fishing from a Pier
If you're looking to go night fishing, but can't justify purchasing a boat, then night fishing from a pier may be the best option for you. Private piers owned by resorts or apartments are often free to guests staying at their facility, while public piers typically charge a small entry fee.
Some cities may utilize government funding through programs such as the Coastal Management Program (CMP) to allow for free access to the pier. This is where the local city government pays for the cost of the pier to promote more tourism to the area. Most other government run fishing piers, typically regulated by local wildlife agencies as part of a local park and boat ramp, require paid access. 
If you're trying to choose which pier is best for night fishing, the first thing you should consider is if the pier has lights. Night fishing lights are very important in attracting fish, and when coupled with cut bait, shrimp, or worms, the probability of success increases significantly. 
Night Fishing Bass
During the day, the larger bass spend their time hiding in covered areas, or deeper down in the lake or stream for better protection. At night, these big bass will come into the shallows to feed. This is what makes night fishing for bass such a fun time. 
On the flip side, bass have worse vision at night, so they are more likely to miss your bait or lure when they strike. This is why it's best to work your bass lures less frequently in comparison to how you would work them during the day time. At the same time, bass are more reliant on their lateral lines which sense vibration to locate bait fish. Lures that have good vibration for night fishing include Colorado bladed spinner baits and vibrating jigs. 
The best place to search for large bass is going to be near transitions where there are quick drop-offs from shallow to deep water. The big bass will be waiting at the edge of these transitions looking for their next meal. 
Night Fishing for Crappie
The key to night fishing for crappie is a good sonar to find out where the fish are, and some bright crappie fishing lights to bring the fish up to the boat.
The most common live baits used for crappie fishing are minnows and worms, while the most common lures are various types of jigs. 
The best places to find crappie are in flats adjacent to river or creek channels, as well as isolated patches of weeds. Bigger crappie are typically in deeper waters, near logs and large stumps. 
Bowfishing at Night
One of the most action-packed night fishing experiences around is bowfishing at night. Bowfishing is done with a bow and arrow, and bright bowfishing lights. The fish swim into the shallows at night, making it easy to light them up and shoot with a bow and arrow. A bowfishing bow and arrow is a little different from it's hunting counterpart because there is a fishing reel attached to the bow. The fishing reel is spooled with bowfishing line, which is then attached to the arrow that is shot at fishing swimming by. The bowfishing reel will ultimately retrieve the fish, the bow fisher will remove the fish from the arrow, and the process starts over again. 
Bowfishing can be very difficult for newcomers, so it's best if you first educate yourself with an introduction to bowfishing, tips from bowfishing professionals, and photos of common bowfishing setups in our complete bowfishing guide. 
Flounder Gigging
If you're in a state that is along the Gulf of Mexico, or one that rides the Atlantic shoreline from Florida to North Carolina, you've probably heard of flounder gigging. Flounder gigging is comparable to bowfishing in terms of the setup that's needed to get started, except you substitute your bowfishing bow for a flounder gig, and bowfishing lights can sometimes be used as flounder gigging lights. 
Each state has its own rules and regulations for flounder gigging, so it's important to educate yourself prior to hitting the water for a night of fishing. 
If you're interested in getting started flounder gigging and learning more about this method of night fishing, educate yourself with tips from professionals and see common flounder gigging setups in our complete guide to flounder gigging.
Fish Gigging
Fish gigging is a night fishing tradition most popular in the heart of the Ozarks. These states include Missouri, Arkansas, Kansas, and Oklahoma. Unlike other methods of night fishing, it is illegal to use underwater lights mounted to your boat in these states for the purpose of gigging fish. The most common lights used for fish gigging are bowfishing lights, and the most common gigs are flounder gigs due to their light-weight ability to quickly penetrate fish. 
The key to a successful fish gigging trip is finding clear pockets of shallow, moving water to give you the best opportunity to see more fish. The target species is typically non-game fish which can include drum, carp, gar, suckers, among many other species. The definition of non-game fish can vary from one location to the next, in terms of what species are described as non-game species. 
Regardless of where you are located, be sure to check your local rules and regulations to see what type of fish can be gigged in your area. Some areas only allow gigging rough fish, while others may allow gigging more prized fish such as catfish.
If you'd like to get setup with fish gigging equipment, rest assured that Outrigger Outdoors is your fish gigging specialist and has the fish gigging equipment for you. 
---