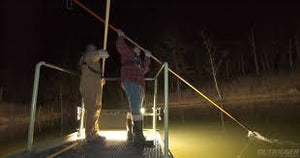 Fish Gigging Equipment - What Setup Do I need to Go Gigging?
Fish gigging
is an age old tradition that is slowly growing in popularity as outdoorsman look for more adventurous hobbies to take part in. Fish gigging is most popular in the
Ozarks
: Missouri, Arkansas, Kansas, and Oklahoma.
A typical night out on the water consists of crisp cool air,
bright gigging lights
, sharp multi-pronged gigs, and (on a good night) a bunch of fish swimming under the lights.
The most common fish that are targeted for gigging include suckers, carp, bowfin, gar, catfish (in certain states), flounder, and other non-game fish
as noted in your local fish and game manual. 

Standard Fish Gigging Equipment
The
best fish gigging equipment
includes a
strong and sharp fish gig
, some
bright lights,
and a flat bottom boat. Many states require people who fish gig on lakes to run their lights above water. When choosing your lights, it is crucial to have lights that can adapt to the water conditions you are gigging in. If you are in clear water, a cool white 6000k rated LED will work best. If you are in muddy or murky water, a warm white 2000k rated LED will work best. Whether you are unsure which conditions you will be gigging in or you are just looking for the best quality fish and flounder gigging lights to put on your boat, we recommend the 
Swamp Eye Light Bar
. These light bars are 2 ft long and broadcast over 12,000 lumens across the water. You'll be sure to illuminate the fish in your area.
One of our most recent developments is our
Swamp Eye HD Bowfishing Lights
. These lights have become a staple in the fish gigging world because of their ability to illuminate large tracts of water, and adjust on the fly to increase visibility in clear or muddy water. The Swamp Eye HD Bowfishing Lights are a must-have in your fish gigging arsenal. 
Apart from quality fish and fish gigging lights, a strong and sharp fish gig that can take the abuse associated with gigging fish and pushing a flat bottom down the creek. We've tested several commercially available fish gigs and the vast majority of them would break off after gigging a couple fish or after pushing the boat a little ways down the river. There was only one fish gig that could stand the abuse of pushing a boat down the river and maintaining a sharp point to gig over 20 fish in a night. That was the
Fish Gig
we've developed along with several commercial fishermen who make a living gigging. 
Fish Gigging Boat
The best fish gigging boat is going to be one that is outfitted with proper gigging supplies, and more importantly, can run shallow, and aluminum flat bottom boats seem to be the most well-rounded resilient boats there are. There are many commercially available flat bottom boats at your local fishing shop, Bass Pro, Academy, or even local Craigslist ad listing. Most flat bottom boats are relatively the same, with the main difference (other than size) being whether it is welded or riveted seams. A riveted boat will flex as it moves across the water and is more likely to have leaks over the long term. This has led to the growing market of all-weld boats. 


All-weld boats, or boats with welded seams, are less likely to have leaks over the long term, and they do not shake as much as their riveted counterpart. The downfall to all-weld boats is that they are significantly more expensive because they require extra attention in comparison to the manufacturing process of riveted boats. You can find a decent used riveted flat bottom boat for under $1,000 while it is tough to find the same all-weld boat at twice the price. The price range is very dependent upon boat size, but there are plenty of barn finds for those looking for a bargain. 

Fish Gigging Boat Setup
We've spoken with many fish giggers and they all seem to have similar advice in setting up your fish gigging boat. They told us the best fish gigging boat setup is a flat bottom aluminum boat with railing up in the front of the boat to keep your grip on while move around in the shallows. Bright fish and flounder gigging lights are mounted to the railing, and we found that many fish giggers will make the railing removable so they can easily use the boat for rod and reel fishing, duck hunting, and other adventures. For ideas and photos on how to setup your boat with proper gigging supplies and lights, check out our boat light setups. 
---