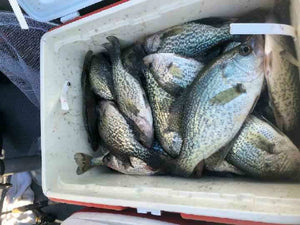 Crappie Fishing: Key Tips to Catch More Crappie
10% of the anglers typically catch 90% of the fish, because they understand the behavior and needs of their target species. Crappie fishing is no exception to this rule. We're here to share key tips and tactics we've learned from crappie fishing veterans to teach you the best way to catch crappie. 
Tips for Finding Crappie
The basic needs of crappie are the ability to eat, spawn, avoid predators, and stay comfortable with optimal temperature and oxygen levels. During spawning season, which occurs between the months of May and June, crappie are less concerned with avoiding predators. This is the only time of year crappie are more vulnerable than usual and may be seen on more open waters. Understanding these natural cycles of the fish will help you learn the best way to catch crappie. 
Regardless of the season, the great thing about crappie fishing is they stay together in schools. Another-words, one good crappie fishing spot can be all it takes to fill your cooler with a limit of crappie. 
Before You Arrive at the Boat Ramp
To find crappie, the first step can be done before you arrive at the boat ramp - pull out a map of the water body you're headed to go crappie fishing. Here are some crappie fishing tips to consider:
Look for areas on the lake or river that have cover.
Areas with brush, logs, submerged structures, or even abandoned docks can make for the best crappie fishing grounds.
Remote areas with little disturbance from daily human interactions are typically the best for crappie fishing. 
Consider the time of year

Pre-spawn and post-spawn, crappie are in mid-to-shallow water depths.
Crappie move into the shallows during the spawn.
During the heat of the summer, crappie move to deeper water depths due to increased temperature and lower oxygen levels in the shallows.
Crappie are very active during the winter, and can be found in shallower stagnant waters, pending water clarity and water temperature. (A winter in the south is far different from a winter in the north, crappie may be deeper if the water temperature is below 60 degrees in the winter) 
These are general behavioral observations, which are typically a result of changing temperatures and water oxygen levels. 

Talk to someone who is on the water everyday: your local Fish & Widlife or Natural Resources Department know the water bodies and what's taken better than most fishermen. 
Putting a small amount of effort into finding a good crappie fishing spot before you get to the water body can help save you a bunch of time once you're on the water. A little effort up front can be the difference in turning your fishing trips into catching trips. 
Once You Arrive at Your Crappie Fishing Spot
Once you arrive at the first crappie fishing spot, take a look around to see if it has what's needed to host crappie. Manmade cover and natural cover are both great for crappie fishing, but the key is finding an area that isn't bothered. Crappie like to be left alone.
Stay away from current - crappie like to nest. Look for sloughs off a main channel with static water. 
Water clarity: crappie are more likely to be shallow in muddy water because they are less threatened by predators. Similarly, crappie are more likely to be deeper in clear waters to avoid predators.
Look for submerged logs, weeds and brush; these are key areas to toss your line and start fishing for crappie. 
A sonar is key to crappie fishing - it can help crappie fishermen find submerged structures, where crappie are more likely to congregate.
If bass, pike, walleye, or similar predator fish are in the area, crappie are probably heading out to deeper waters. 
 If the conditions look right, then it's time to wet a line. Depending on the time of day it is, the lure, bait, and fishing strategies can change. Let's talk more about tips and strategies for crappie fishing during the day and crappie fishing at night. 
Crappie Fishing During the Day
Day time crappie fishing can be totally different than night time crappie fishing. As the sun rises and falls, crappie are far more likely to be in the shallows. However, during the middle of the day, they tend to move deeper unless it is in the middle of the winter.   
Day Time Crappie Baits
The best bait method for crappie fishing during the day is a minnow on a bobber. The bobber is the key to being able to tell if a crappie strikes a minnow. Crappie can have a very light bite, so it is not uncommon for fishermen to not realize a crappie is on the line if they aren't using a bobber with their minnow. The best hooks to use are 2/0 or 3/0 hooks, and nothing smaller. Smaller hooks are more likely to be swallowed by the crappie, making removing the hook far more difficult. 
Day Time Crappie Lures
The best lures for crappie fishing during the day time are jigs. A good all-around jig is one that looks very similar to a minnow and has the same blue/silver color pattern as a minnow. This is the most natural jig which represents a bait the crappie are familiar with, and can be especially effective in clear, shallow waters. 
Depending on the water conditions, here are some other jigs that may work for you:
Clear Water, Bright Light
White body jig with a blue head 
Cold water: all white jig 
Other good combinations to try: orange-white, pink-white, red-white, and chartreuse. 
Clear Water, Low Light (early morning & late evening)
Brown-orange, purple-white, lime-black
The lower the night, the darker the lure that should be used. 
Stained Water, Bright Light
green, chartreuse, lime, and orange.
Lures that contrast with these colors will often perform well, but all-white is not a good choice for stained water. It is best if it is paired with one of these colors. 
Stained Water, Low Light
all-brown, brown-orange, black-lime, and all-black work well. 
If there is an algae bloom, then lean more towards the orange and chartreuse colors. They can be contrasted together or used with brown and black. 
Crappie Fishing During the Day Video by Bluegabe
Crappie Fishing at Night
The key to crappie fishing at night is utilizing some bright underwater green fishing lights. It's best if they are designed with crappie fishing in mind, which means they will easily mount to the side of your boat and run off your 12 volt boat battery. One of the best and brightest fishing lights to use for night fishing for crappie is this 20,000+ lumen underwater green crappie fishing light. It will illuminate an entire area surrounding your boat, helping you attract more crappie. Read below to learn some more helpful nighttime crappie fishing tips.


Some argue that warm white or cool white lights such as these submersible fishing lights work best for crappie fishing, but science shows that fish are most attracted to the green wavelength which is in the 520-530 nm range. It's best to stick with a green underwater light. 
Night Time Crappie Baits
Regardless if you are fishing during the day or at night, a minnow on a bobber is still the go-to bait source for crappie fishing. Other baits that can be used are worms and insects, but the best bait for night crappie fishing is a minnow on a bobber.
Night Time Crappie Lures
It's true that some crappie fishing enthusiasts will take a jig and tip it with a minnow, to get the best of both worlds. Generally speaking, a lime-black coloration works best for night fishing jigs and pairing this jig with a glow-in-the-dark head has proven to be effective as well, especially if placed under green fishing lights.  
Preserving Crappie After Fishing
It's best to fillet out your crappie soon after you catch them and get them vacuum packed and on ice to keep their white flaky meat fresh for your next home cooked meal. 
When crappie are found, they are typically caught by the numbers. This means when it comes time to cleaning the crappie, a sharp fillet knife with non-slip grip handle is very important. There are many features to consider when purchasing a fillet knife for fish, but these are two of the most important features. One of the better quality knives for crappie fishing, primarily due to its comfortable fit in your hand while skinning and ability to hold an edge after continuous use and abuse, is the VG 10 Flex Fillet Knife. There are many professional guides and commercial fishermen using this knife, which slices through crappie trip after trip. 
Preserving crappie is best done with a vacuum sealer, but not any kitchen grade vacuum sealer will work due to the high moisture content of crappie fish fillets. It's best to find a vacuum sealer for fish and game. The reasons behind this have to do with the ability to adjust the seal for high moisture content foods, adjust the vacuum pressure, along with several other features mentioned in this guide to buying a fish and game vacuum sealer.
One method of cooking your vacuum sealed crappie is Sous Vide. This method of cooking has become more popular due to the cooking process allowing the meat to maintain all of the flavors and juices as it cooks. The result is a tender, juicy fish fillet that is full of flavor. 
If you've found one piece of value in this article, we encourage you to sign up for our blog in the bottom right corner of this page to learn more! 
Please give us feedback, leave a comment below!
---
1 comment