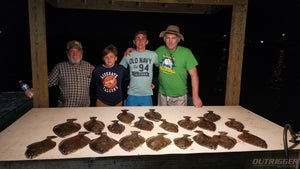 Flounder Gigging Report by Capt. James Parbst
Hello Everyone from Captain James Parbst,
Nocturnal Assault Flounder Gigging Guide and Commercial Fisherman
here in the Port Aransas and Rockport, Texas area.
These hot temps don't take long to realize we are in the dog days of summer with the non stop heat warnings popping up on my weather alerts. It's just flat out one hot doggy out there.


August is quickly approaching and we have already started to see a drop in tides. That means alot of our favorite commercial spots are now dry land. It also means we are more prone to muddier waters. This puts us out working the sand pockets in 1 to 3 feet of water looking for flounder to gig. Often fish will come up shallow to feed and not stay for long due to the high water temps. so if you work one spot don't be afraid to try again a hour or two later and sooner or later your patience will pay off. 
Most often question i get is where should i go and gig. Well the answer is simple there is few things you should always look for, clear water and areas that see little pressure and finding areas with less pressure might mean a farther boat ride or car ride but boy can it ever pay off big! Nothing is more fun than discovering  the mother load of flounder and not another set of flounder lights insight. Also while I am thinking of it, while out
flounder gigging
we have been seeing lots of rays so if your out walking remember to always shuffle those feet and be safe and have fun.
One of the best ways in the summer to have a great time and avoid the brutal day time heat and all the boating traffic is to grab yourself a
flounder gig
and
swamp eye submersible light
from Outrigger Outdoors and start walking the banks for flounder to gig. They have some of the best
commercial grade flounder gigging equipment
that's out there and are well known to stand behind their product. 
Captain James Parbst 
---