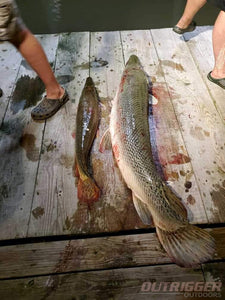 What to Look for in a Quality Bowfishing Spot?
What to Look for in a Quality Bowfishing Spot?

Bowfishing is one of the most entertaining, action-packed hobbies that combines the sport of fishing and hunting into one outing. Finding a quality bowfishing spot is a task of its own, and the types of spots you look for can vary depending on what species you're targeting. 
Regardless if you're new to bowfishing or you've been at it for quite a while, you need to know how to pick a quality bowfishing spot. Not all areas are perfect for this activity, as some places may either not have the right type of fish or may just be dangerous. So, what should a high-quality bowfishing spot have? This article will tell you what you need to know. 
Good Fish Species
In case you're a beginner when it comes to fishing in general, you should know that not all fish species are good for fishing. Basically, some species are not legal for bowfishing, so you need to know what you can and can't fish. So, you might have to spend some time checking out the fish before you decide to proceed with your action, or you can get in trouble. 
It's recommended to spend about 10-15 minutes in an area before you move along the bank. 
You also need to make sure the spot has species you know about simply because you must be aware of how fish will act when you're bowfishing. You should know their spawning patterns, food preferences, and so on. This will help you with your experience and will make sure you will get to catch a lot of fish.
Use Resources
You should look for the archery retailer nearby and find a bowfishing mentor, depending on where you live. Usually, these mentors will be more than happy to take you in if you're a bowfishing newbie. You will get bowfishing classes and workshops. 
This is a great way for you to also learn the best spots in the surroundings since a mentor has experience in the area and can recommend something for you. A mentor will also teach you where to shoot, how to identify fish, where to go, and so on. It's very nice how the bowfishing community is willing to help.
Use Maps
One of the oldest methods to find a place is by using a map, so why not take advantage of that? If you're a beginner, a map will be a great guiding tool for you. It will reveal the best bowfishing spots, as they show you the layout of rivers, lakes, and ponds, but you can also see other details like the depth of water, weeds, vegetation and more. 
Check for Fish Signs
You've found a place with water – now what? How do you know if it's a good bowfishing spot? Well, it's not that difficult – you need to spend some time in the area and check for fish signs, such as water splashing, spot ripples, muck bombs, or V-shaped patterns. If you are there long enough and don't see anything, then it may not be a good spot to bowfish. 
Find Water with Visibility
Let's be honest, dirty water wouldn't be favorable at all for you or the fish. Since it's not clear, you won't be able to see where fish is or identify the fish species. Meanwhile, you wouldn't want to end up with fish that lived in dirty water anyways. 
The best spots are those where the water is clear enough to allow you to see the fish. In general, there are places with shallow water that offer good visibility – these usually have weed beds, shallow flats, and more. 
Trust the Bank
In some cases, you may not have a boat, which makes things harder for you. However, you can also bowfish from the bank – sometimes, it's an even better option than a boat. It's entertaining too. 
The cool thing about banks is that you don't have to worry about boat steering, but you don't have to worry about finding a boat ramp either. You can just simply walk around as you wish. Besides, boats don't really allow you to enter narrow or shallow areas that can be reached by land. 
Of course, it's not all sunshine and rainbows with banks, but if you are up for an adventure, then, who knows, you may actually like it. Otherwise, you may also want to buy a fishing kayak, which will help you find areas rich with prey. One such kayak is the Sun Dolphin Aruba SS, which only has 50 pounds, being not only lightweight but also easy to work with. 
Go to Gar and Carp Spawning Places
An opportunity for amateurs are carp and gar spawns because you can practice your skills and also catch some good fish. It's the best place if you want to bowfish from March through July. You will be able to find hundreds of them because they move into grass beds and shallow water and gather up side by side. So, they will be easy to see. 
Concurrently, you can find gar if you look near rock beds, sloughs, creeks, and shallow coves. They spawn in the later summer months, and they either lie on the surface or swim in herds. Just like that, they are easy to see and catch. 
Check Spillways and Dams
There are, of course, other amazing spots for bowfishing, such as below dams and spillways. These are some of the best places you can find during summer. You can also go to spots where creeks and streams go into lakes and rivers. Just make sure you check with the authorities first so you don't end up bowfishing in the wrong area.
Final Thoughts
You need to know how to find the best bowfishing spots if you want your experience to be fulfilling. After you've read these tips, you should be ready to find some places rich in fish. Good luck!
---