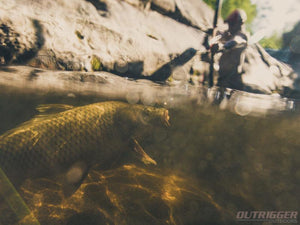 Top Bowfishing Spots
What constitutes the best bowfishing spot in the states? Well - it depends on who you're asking. Plenty of bowfishing sites in the US offer a multitude of large fish, so it all comes down to personal preference. 

The average amateur bowfishermen is looking to put some fish in the boat and have a great time on the water with their friends and family. Most local lakes and body of waters will probably satisfy these needs as long as the water clarity is somewhat good. Whether the water is clear or muddy, the Swamp Eye Light Bar color tone adjustment feature will help to maximize visibility through the water. 

The tournament bowfishermen are typically looking to maximize one of two goals when competing. They either want to shoot numbers and have the most fish, or they want to shoot for quantity and have the biggest fish. Regardless of which target you're aiming to hit, you're going to be moving quick across a variety of water bodies and conditions to get the gold. The ability to adjust to these changes from one water body to the next can make it difficult to find the best bowfishing lights for your boat, because there are many options.
The best option for these situations is a bowfishing light that is made for penetrating these clear river streams and pockets of muddy water. The Swamp Eye Light Bars accomplish this task with their ability to change color tone on the fly, helping bow-fishermen see more fish. 

AMERICA'S TOP 10 BOWFISHING SPOTS

1 - TRINITY RIVER, TEXAS

The Trinity River is known to produce some of the biggest alligator gar in the nation. Regardless of who you talk to, it's a well-respected waterway for bowfishing, which is why it's at the top of our list of the best places to bowfish in the US. While out on the water, you'll see gar, common carp, buffalo, drum, and bowfin. 
2 - BULL SHOALS LAKE, ARKANSAS

This lake is tucked away in the Ozark mountains and is among the most underutilized lakes on the list. Well known for bass and walleye fishing, Bull Shoals Lake is sure to make for a great bowfishing trip. Unlike Texas water bodies, you can bowfish catfish during the open season on this lake as well as common carp and gar. 

3 - MISSISSIPPI RIVER

As the patriarch of all American waterways, there's no way the ole Mississip doesn't make this list. The further south down the Mississippi you go, the more exciting the bowfishing gets. There is a large variety of bowfishing species including gar (alligator gar near the saltwater), paddlefish, common carp, asian carp, buffalo, and drum. 

4 - FLORIDA GULF COAST

The abundance of saltwater species, a year-round fishery, and sandy beaches makes the entire Florida Gulf Coast and prime bowfishing destination. There are a wide variety of bowfishing species such as stingray, sheepshead, mullet, catfish, flounder, drum, and spade fish. 

5 - ILLINOIS RIVER AT PEORIA, ILLINOIS
Known for the jumping silver carp, the Illinois River can make for a unique bowfishing experience. There is a vast abundance of silver and bighead carp invading the Illinois River. 

6 - LAKE MICHIGAN'S SOUTH SHORE
The warmer weather and long stretches of wadeable beaches make Lake Michigan's south shore quite desirable. The most common bowfishing species include common carp, buffalo, and drum. 

7 - LOUISIANA GULF COAST
Popular for the abundance of alligators, the Louisiana marsh is full of freshwater and saltwater bowfishing species. Among these are redfish, drum, sheepshead, catfish, gar, and flounder.

Louisiana is a unique state because they allow bowfishing redfish, which most other coastal states do not allow. Redfish are viewed as one of the best-eating fish to target among many anglers. 
8 - MISSOURI RIVER, KANSAS CITY TO ST. LOUIS
From its origin at Three Forks, Mont., through its many impoundments of South Dakota and on down through Nebraska and Iowa, the Missouri offers exceptional bowfishing opportunity. The uninterrupted stretch from Kansas City to St. Louis is big-river bowfishing. You're dealing with the Big Muddy, here. It's no joke. This is a strong and powerful waterway. The fish feel it too, so look for them behind wing dikes, in large eddies and at confluences with smaller rivers and creeks. The top bowfishing species include gar, paddlefish, common carp, and asian carp. 

9 - ST. LAWRENCE RIVER
The St. Lawrence River has been known to produce an abundance of carp for the northeastern bowfishermen. It's not uncommon for someone to stick a 40 pounder on these waters. Commonly targeted bowfishing species include common carp, drum, and suckers. 

10 - CALIFORNIA COAST

And the last but certainly not the least place on our list of the best places to bowfish in the US is the California coast. The California coast is possibly the most unique on this list because the target bowfishing species isn't carp, suckers, paddlefish, sheepshead, stingrays, or even gar. It's one of the biggest and most fierce on the list, the Mako shark and blue shark.
Although I've never bowfished for a shark, I can't imagine the number of arrows you'd have to put in one to bring it in. The big 8 ft alligator gar typically take 4 arrows or more. A Mako is similar in length but more than double the weight of an alligator gar and much more fierce. If you want to take your bowfishing adventures to the next level, visit the California coast.
Time to Get Bowfishing
And there you have it: the best places to bowfish in the US! You've got our list of top bowfishing spots, now it's time to prepare for your next bowfishing adventure. Learn about what you need to get started bowfishing, how to find good areas on the lake to bowfish, ideas and setups for your next bowfishing boat, and more in our Complete Guide to Bowfishing.  
For more bowfishing equipment and additional information, visit Outrigger Outdoors today.
---