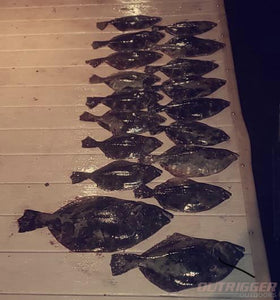 The Fall Flounder Run: A Drop in Temperature Kicks Off Fall Fishing
As October is getting closer, temperatures across the coast are starting to drop which means that the fall flounder run is about to heat up! So what exactly is the fall flounder run? 
The fall flounder run is essentially the fall migration of female flounder to the Gulf to spawn, so you can find them in the cuts and channels heading that direction. If you're at all interested in catching flounder this season then the fall flounder run is the time to do it! 
Timing is Everything
Time is of the essence when it comes to the fall flounder run. The flounder are actively making their way out to the Gulf so if you can time it right then you'll find yourself among a slew of flounder! The flounder run lasts approximately from the end of September through early December. Opinions vary, but a lot of fisherman say that if you really want to fill your ice chest with flounder then hit the water before a front hits. The barometric pressure is falling right before a front which means that the flounder are on the move. 
Be Prepared
Whether you're catching flounder with a rod and reel or a gig it's important to be prepared to bring home some delicious tasting fish. There's nothing worse than seeing a flounder get away because of a bad hook or gig which is why we recommend our 316 Stainless Steel Flounder Gig. Flounder definitely won't be flopping off of this gig! Our Swamp Eye Submersible and Mini Submersible flounder gigging lights are designed to stand up to the harsh saltwater environment and light up the bay to bring in more flounder for a bigger haul. They're color tone adjustable which means that you can adjust the color tone depending on your water conditions. Unlike most underwater lights, the  Swamp Eye Submersible flounder gigging light is capable of taking constant abuse (see YouTube video of us slamming it with sledge hammer!)
We hope you have full ice chests this season, good luck and we encourage you to send us photos of your experiences!
---
1 comment