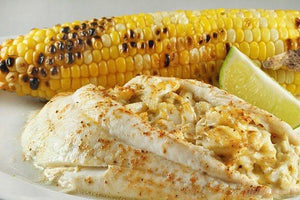 Recipe Book for Flounder, Gator Gar, Stingray, and Carp
We like to post photos showing how successful our supporters are at harvesting a wide variety of fish. The most common species we see are related to bowfishing and flounder gigging: flounder, alligator gar, stingray and carp. Separate from all the atta boy comments, we are commonly asked "What do you do with all that fish?!"

The purpose of this weeks blog is to address that specific question and hopefully provide some quality recipes you can add to the cook book. If you haven't already, we recommend you check out our new selection of Fish and Game Processing Equipment. We've been working on developing some of the best quality vacuum sealers, gut and bait knives, and fillet knives for the past couple years and we're proud to offer them to our supporters.

Here's the recipe's we cover: Stuffed Flounder, Alligator Gar Balls, Stingray Scallops, and Fried Carp. 

We'll start with one of our personal favorite dishes of all time...
 
Stuffed Flounder
Ingredients
8 ounces crab meat lump or jumbo lump
12 ounces flounder fillets 4 large fillets
2 Tablespoons melted butter
Imperial Sauce
IMPERIAL SAUCE

1/2
cup
mayonnaise

1
large egg
lightly whipped

1
squeeze of fresh lemon juice

1
teaspoon
sugar

1
teaspoon
old bay seasoning
In a small bowl mix all the ingredients for the imperial sauce together until well blended.

Gently blend the sauce into the crab meat, don't add it all in, in case you don't need quite that much sauce.

Place two large fillets of flounder in your baking dish, and place half of your crab imperial mixture on top of each fillet.

Take the remaining two fillets and split them in half, placing one-half on each side of the stuffing, leaving the top visible. It will great as it browns, and you want your guests to see all of that lovely crab meat!

Place a little water in the pan with your stuffed flounder to help keep them moist, and if you're feeling really decadent, top the stuffed flounder with a little melted butter (that's how we would have done it in the restaurant). It's definitely worth the extra effort!

Place the baking dish in a 350 degree preheated oven for 20-25 minutes. It's important not to let the flounder dry out, but you do want your crab imperial to be hot enough (if you have a food thermometer check its internal temperature to make sure its at least 165 degrees).

Get to eating!
Next up, we'll tackle one of the more controversial fish our supporters send us photos of.

Alligator Gar Balls

Ingredients
4 cups minced Alligator Gar meat, raw
5 medium red potatoes, (3 cups mashed)
2/3 cup Green Onion, minced 
1/2 large yellow onion, minced
1 TB Creole Seasoning
3/4 tsp Garlic Powder                                                                                                                                                                                                                1/4 cup flour 
Corn flour, for rolling Canola oil




Instructions
1. Boil potatoes, mash and set aside.
2. Grind alligator gar fillets in food processor
3. Mix together in a large bowl, garfish, mashed potatoes, green onion, yellow onion, creole seasoning, garlic powder, and flour.
4. Roll the mixture into golf ball size or flat little patties (I like about 2″ wide and 1/2″ thick, but you could make them any size you like.) Roll in corn flour to fully coat.


5. Put the balls in a fryer preheated to 375, OR place in a heavy skillet with a 1/2 inch of oil heated on medium high heat, and cook until golden brown in color, about 2 minutes per side.



6. Remove from grease and let cool
7. Get to eating!

Stingray Scallops

Ingredients
2 Stingray wings (~1.5 lbs)
1/2 cup all-purpose flour
3 to 4 tablespoons extra virgin olive oil
2 garlic cloves (minced)
Kosher salt (to taste)
Freshly ground black pepper (to taste)
Garnish: lemon wedges
Garnish: parsley (chopped)




1. Remove the skin from the stingray wings with a fillet knife if it hasn't already been removed. Note: If you haven't removed the wings already, be cautious when removing wings that you do not touch the tail or the barb inside the tail.
2. Dice the wings with a cookie cutter or similar tool into round "scallops"
3. Rinse the stingray scallops in fresh water.
4. Put the flour in a shallow bowl; roll the scallops in the flour.
5. Heat the olive oil over medium-low heat. When the oil is hot, add the scallops and cook for 90 seconds, stirring frequently.
6. Add the minced garlic, salt, and pepper and stir to blend. Continue to cook and turning for about 1 1/2 to 2 minutes longer.
7. Garnish the scallops with chopped parsley and serve with lemon wedges, if desired.




8. Serve with hot cooked pasta or rice along with sautéed spinach or Swiss chard. 
9. Get to eating!

Fried Carp

Ingredients
4 Slice carp fillets
5 Tablespoon (tbsp) flour
2 Teaspoon (tsp) sweet paprika powder
1 Teaspoon (tsp) garlic flakes
1 Teaspoon (tsp) salt
1 Teaspoon (tsp) black pepper grated
1 Deciliter (dl) vegetable oil




Despite the negative criticism carp receives related to eating the fish; when the time is taken to properly prepare the fish, it makes for a really great meal. The hardest part is descaling, filleting, and deboning these fish. Once you have a bare fish fillet, the rest is pretty easy. 

1. Mix the spices and flour in a flat plate.
2. Spin (push) the carp slices in it, until they are completely covered with seasoned flour.
3. Heat the oil on frying pan and fry the carp slices for 15-20 minutes on medium heat.
4. Serve with mashed potatoes.
5. Get to eating!

---