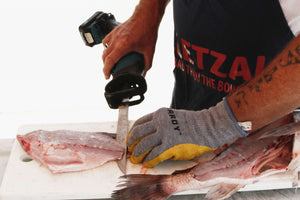 Filletzall® Electric Fillet Knife Blades
Filletzall® Electric Fillet Knife Blades Pioneered by a Charter Captain
Capt. Paul Bates ran an offshore fishing charter out of Kemah, Texas, targeting a smorgasbord of fish species. It was tough work for Capt. Bates, but he was good at it.
Upon arrival at the dock after a long day fishing, the customers were able to cool off in the A/C, but Capt. Bates work was far from over. He still had a small mountain of fish to clean. The species included snapper, ginger mackerel, tuna, wahoo, amberjack, and grouper.
Efficiency was key in limiting the amount of time it took Capt. Bates to clean his customers' fish, so he had tried just about every cleaning mechanism out there, including the best filet knives on the market. He had been through various electronic fillet knives, but the gears would strip, blades would heat up, and the knife itself would seize up after being used for a while. Then he switched to hand filleting fish, which he was very good at, but the process was still tiresome. 
One hot summer day, Capt. Bates had met his match with the tiresome work and was looking hard for a better solution, when he saw his reciprocating saw sitting in his shop.
He took the fillet knife blade out of its handle, started grinding on the handle-end of the blade and drilled a hole to mount it into his reciprocating saw the same way his other SAWZALL® blades would mount. 
If a reciprocating saw can continuously cut through wood, metal, and other tough materials, then it should be able to slice through fish after fish with ease. 
The first blade he made by hand lasted for a year of tough commercial use before he replaced it. The blade literally cut through fish like butter. Filletzall® electric fillet knife blades were born and have rapidly become known as among the best fish processing knives on the market.
This idea has since become one of the strongest and most resilient electronic fillet blades in the industry, and Capt. Paul Bates has received two patents for the idea. The blades are 100% made in the USA by Dexter-Russell®.
Capt. Bates gave us a phone call and told us his story, and we were instantly hooked. We've worked with several charter captains who have already put Filletzall® electric fillet knife blades to the test, and we're proud to offer Filletzall® products on our online store. Shop our selection of Filletzall® blades today. 
Filletzall® Electronic Fillet Blades
Capt. Paul Bates has several different electric fillet blade sizes for the various sizes of fish. The 8.5" is ideal for smaller fish, 10" for mid-sized fish, and 12" for larger fish. 

Best for smaller fish
works in both freshwater and saltwater
Made from stain free high carbon steel
Ideal for crappie, bass, trout, catfish and more
Best for medium sized fish
Ideal for saltwater, works for large freshwater fish as well.
Ideal for redfish, alligator gar, Cobia, wahoo, and many more.
Made from stain free high carbon steel
Best for large fish
Ideal for saltwater, works for large freshwater fish as well.
Ideal for marlin, tuna, alligator gar, and many more.
Made from stain free high carbon steel
---