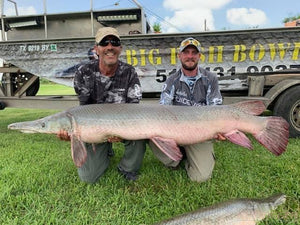 The Heat of Prime Time Bowfishing
Triple digit heat indexes are a good indicator of the heat of summer and similarly the results of the latest bowfishing tournaments and continuous harvests of HUGE GATOR GAR are a strong indicator of PRIME TIME BOWFISHING!
The Muzzy Classic Bowfishing Tournament winning team brought in over 519 lbs of fish, while the top 10 teams all brought in over 300 lbs of fish! What's even better is 100 lbs of fish would not have even landed you in the top 60 teams. That's a pretty hefty haul!
Capt. Mark Malfa with
Big Fish Bowfishing Texas
 has been very busy this season and the excitement in his voice made it clear he's having a fun time chasing big gator gar.
"Bowfishing has been really great this 2019 season!  We've taken and seen plenty of trophy sized alligator gar in the 6 and many other well into the 7ft range this year. There have been NO shortage of giants. The conditions and the action have been really great. The results of this years' trips is on par with some of the best I've seen in over 19 years of guiding." - Capt. Mark Malfa, Big Fish Bowfishing Texas
Here's a couple of the monsters Capt. Malfa has brought in over the past week. 
---