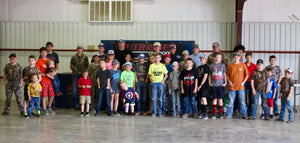 Miles, TX Youth Varmint Hunt - RECAP
This past weekend we made our way out to Miles, TX for the first annual Youth Varmint Hunt. Nearly 100 kids were out in the field competing this weekend for heaviest fox, most headshots, and most points. The teams started rolling in around 10am the next morning. As the animals were unloaded we quickly realized that the next generation of hunters are some dang good shots! 
These competitors weren't just kids, they were young men and women.
This was their time to shine and they handled their own with unloading their varmints and taking them to weigh in.
We'd like to extend a special thank you to Jon Medina for working hard to organize and implement such a great event for the kids and the predator hunting community.
We hope to see everyone again at the 2019 contest!
---