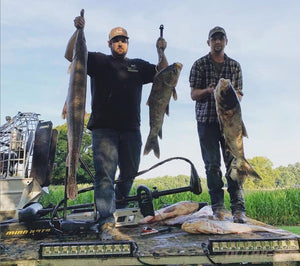 Outrigger Family Wins Big Gar at Cajun 8 Bowfishing Tournament
We consider our customers family and we're proud to report that one of our own won Big Gar at the Cajun 8 bowfishing tournament!
Last weekend at the Cajun 8 Bowfishing tournament in Indiana, Josh Damron and his team took home the title for Big Gar with a 22.4 lb long nose! Josh and his team logged over 1,500 miles of driving to scout spots and to compete.  This isn't the first time Josh has secured a win either. Back in April he won 1st place and Big Fish at the BAM West Michigan Big 30.
To secure the win, Josh and his team ran 6 Swamp Eye Light Bars for the tournament.
"Having the swamp eye bars on the boat was critical to our success at the Cajun 8. We had the bars set to around 2200k while shooting gar and grass carp, and switched them to cooler white after we switched spots for big heads. Being able to change tint on the fly has been a key factor to our success at tournaments all year long." - Josh
Congratulations Josh! We're proud to have you as part of our team! 
Outrigger Outdoors has become the leading designer and manufacturer of Bowfishing Lights. After pioneering the concept of color tone adjustability and increasing user friendliness of Bowfishing Lights, the Swamp Eye Lights quickly became a top-selling light in the industry. If you're looking to increase visibility on your bowfishing boat and ultimately put more fish in the boat, look no further than the Swamp Eye Gen 2.X Bowfishing Light Bars. 
---