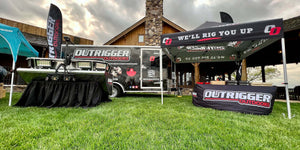 U.S. Open Bowfishing Championship
The 2022 U.S. Open Bowfishing Championship hosted by Bass Pro Shops was one for the history books - it marked the largest bowfishing tournament in the world with nearly 230 teams competing for the top prize. 
We had the opportunity to meet with many of our long friends we've met through bowfishing as well as put a face to a name of many of our new customers. 
Team Ignited Bowfishing represented Outrigger Outdoors well with a Top 5 Finish! They ran a combination of Swamp Eye Light Bars and Swamp Eye HDs on their boat to find their fish. We'll post a photo of their boat below. Alex Phillips (far right) owns Ignited Design CNC and Fabrication Services out of Missouri. 
Team Firehouse Bowfishing also represented Outrigger Outdoors well, taking home Big Fish (Common Carp). They ran entirely Swamp Eye HD Bowfishing Lights on their boat. Capt. Derek Marlin (far left) runs Firehouse Bowfishing Charter Service out of Missouri. 
There were nearly 40 boats at the U.S. Open Bowfishing Championship this year running Swamp Eye Lights. It was an awesome sight to see for our small business - we are beyond grateful for the support of each and every one of you guys who use our product and represent our brand.
We put a face to many names and shared countless fish stories this weekend. These tournaments are a great way to get involved with the bowfishing community and meet like-minded people.
If you haven't experienced it before, we recommend you come out and see us at the Muzzy Bowfishing Tournament in Vicksburg, Mississippi or World Bowfishing Championship in Opelousas, Louisiana!​​​​​​​
We always get asked for setup ideas - so here's a couple photos we managed to get of different boat setups towards the end of the weigh in. 
Outrigger Outdoors is the leading manufacturer and designer of Bowfishing Lights. If you're looking to gain an edge on your competition, look no further than the Swamp Eye Bowfishing Lights. They are color temperature adjustable for increasing visibility in clear or muddy water and output an incredible amount of light with minimal power draw. This has earned them an unrivaled lumen per watt efficiency factor that gives you more opportunities to see fish you wouldn't have seen otherwise. 
---