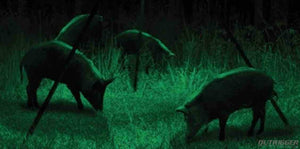 What is the Best Bow Light for Night Hunting?
Whether you are new to the sport or a seasoned expert, the portability of a hunting light mounted to your bow is second to none. The purpose of this article is to walk you through the key features to look for in a bow-mounted bow hunting light and ultimately make a recommendation on what bow mounted hunting light you should choose. 
Features of the Best Bow Mounted Light for Night Hunting
Red, Green, and Warm White Interchangeable LEDs
Adjustable Brightness to Prevent Spooking Animals
Adjustable Spot and Flood Beam
Compatible with All Bows (Including Bowfishing Bows)
Recap & Recommendation of Best Bow Mounted Hunting Light
Features of the Best Bow Mounted Light for Night Hunting
If you have limited experience bow hunting at night, it can be difficult to know what you don't know. We've spent a lot of time in the field, and we've even consulted with many other different night hunters. Here are some of the key features that we've found to be most valuable as well as what some of the most seasoned guides and hunters have told us are most valuable to them. 
Red, Green, and Warm White Interchangeable LEDs
Whether you are hunting varmints, hogs, predators, coons, or even coyotes, the ability to illuminate your target without exposing yourself is crucial. You can read more on the different color spectrums each of the animals read in one of our previous blog posts, but it boils down to two colors: red and green. Red colored hunting lights are the universal color that is proven to work on both varmints and predators because it does not cast shadows. Green is proven to work on hogs but does not work as well on other varmints and predators who have the ability to see higher wavelengths on the color spectrum. 
Universal Mounting Mechanism
Hunting bows typically utilize stabilizers to balance the weight and minimize noise when the arrow is released. It's important for your bow mounted predator hunting light to not interfere with this accessory. A bow-mounted light that can tie-in to the stabilizer mount while still allowing the stabilizer to be used is the best of both worlds and something that should be considered when on your search.  
Adjustable Brightness to Prevent Spooking Animals
A feature that is often overlooked by guys new to night hunting is something more important than the actual color of the light: the instantaneous intensity. When you shine a concentrated beam on an animal, regardless of the beam color, the concentrated intensity can blind them and cause them spook and run off. Whether you are using warm white, red, or green LED hunting lights, if you start with a very dim light and slowly increase the brightness, your chances of spooking the animal are very slim. Combine this tactic with a color outside of their visual wavelength spectrum such as red or green and you are virtually guaranteed to remain unnoticed. 
Adjustable Spot and Flood Beam
Most people looking for a bow mounted hunting light are looking for a way to get into bow hunting without spending a big budget on a variety of feeder lights…or so we thought. We found that hunting guides will use bow mounted lights to point animals out to customers and tournament hunters will use them to reach take close up varmints without spooking their target species. This brings us to an important feature: the light needs to have an adjustable beam that can broadcast a wide flood for hogs and varmints up close or a concentrated spot beam for animals further out.
Compatible with All Bows (Including Bowfishing Bows)
In a recent survey, we found that most people who enjoy bow hunting would also enjoy bowfishing. Although many were not familiar with the sport, they did say it sparked their interest and is something they would consider trying. Whether bow hunting or bowfishing, spending time outdoors with your compound bow makes for a fun experience. A light that is universal to the archery outdoor sport provides a lot of value to the archery outdoorsmen: warm white LED hunting lights are good for bowfishing, red and green LEDs have been known to be leaders in the night hunting world. If you're able to change LED colors depending on what your targeting, you're guaranteed to get the most value out of one single light all season long. 


Recap & Recommendation of Best Bow Mounted Hunting Light
Whether you're looking for a bow mounted light to use strictly for your hunting bow, or one that is versatile and powerful enough to swap between your hunting bow and rifle, the Outrigger Outdoors Bow Mounted Hunting Light is setting a new standard on quality crafted hunting lights.
Whether you're spot and stalking hogs at night or calling predators trying to stay under the radar, the Outrigger Outdoors Bow Mounted Hunting Light can do it all.
The attention is truly in the details; from the dimmable controls, to the color-blind-spectrum optimized LEDs, to the ability to quickly mount to any bow or rifle are just a few of the reasons this bow hunting light is trusted by hunters and trappers across the Nation. 
Red, Green and Warm White Interchangeable LEDs
Our Bow Mounted Hunting Light is capable of staying unnoticed regardless of the animals visual wavelength spectrum with its true warm white, red and green colors from the source. There is no tint which degrades the brightness. Due to our LED hunting light optimization, we are able to push over 1,000 lumens from this small compact light and achieve a maximum spotlight beam distance of over 300 yards.
Universal Bow Mounting Mechanism
When you mount your light, you don't want to hinder the amount of other accessories you can add to it. Instead of hindering this, we've enhanced it. Our universal mounting bracket ties into the stabilizer hole on a bow and has an adapter to mount a stabilizer and even includes a picatinny rail if you decide to mount other accessories or change the light over to your rifle. 
Adjustable Brightness to Prevent Spooking Animals
One of our most proud features is the ability to easily adjust the brightness of the light to prevent from spooking varmints such as hogs and coons and predators such as coyotes, bobcats, and mountain lions. Our touch pad mounts to your bow handle, making it easy to control the brightness of the hunting light while aiming. This is huge when targeting your animal because you can slowly increase brightness while being prepared to release an arrow at any moment.
Adjustable Spot and Flood Beam
Our bow mounted light has the ability to adjust focus from a 130 degree wide flood beam to a 300 yard long spot beam which do a great job lighting up a large nearby area or spotting animals far off in the distance. Combined with adjustable brightness, this key feature will keep you hidden will illuminating your target.
Added Feature: Universal to Other Applications (Bowfishing)
As we previously mentioned, we found most of our bow hunting guys also enjoy bowfishing. So to maximize what is already the most valuable bow mounted light, we've included options for a variety of interchangeable LEDs that match all occasions. These are warm white, red and green from the source, no tint, for maximum brightness. These lights have the same features including brightness adjustability to prevent from spooking animals or light sensitive fish and spot/flood beam adjustability for fish that are close up or far out. 
---