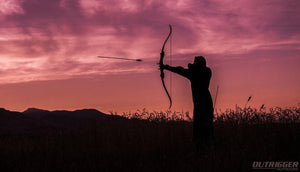 Top 5 Tips for a Beginner Night Hunter
Guest Blog Written By: Steve Wells

Hunting is an exciting sport that gives you an adrenaline rush. Night hunting is even more exciting than day hunting. Hunting after dark can be quite challenging. However, when the challenge level is higher, the more you will enjoy. A beginner might find it quite difficult to hunt in the light. However, unless you don't step out for the first time, you will never learn. To make things easy for you, here are a few things you need to know about hunting.
Have conversations with experienced hunters
Experienced hunters have great stories of their hunting trips. Their experiences and encounters are valuable lessons to learn. An experienced hunter will have advises that you can't ignore. You can also join them on their hunting trips and learn the tricks and methods they use while hunting.
Education course for Hunters
Most states will require you to have a safety card for hunters. This card can be obtained by completing the course for hunter education. This course can be completed online as well. Once you complete this course and obtain this card, you can hunt in all states.  
Gain knowledge and know your equipment
Practice is essential before you go out on your first hunting trip. The real experience is always going to be different. However, you need to have knowledge about your equipment, terrains you will be hunting, and about the animal, you will be hunting.
You should also know their sounds and learn about hunting calls. Hunting calls are animal sounds. These days, hunters even use digital and electronic devices. However, professional hunters don't rely on digital devices they use mouth calls for hunting. Practice these calls, as they are very helpful to attract your prey. 
Use of night vision binoculars will enhance your vision in the dark. It will give you a better view and clarity of animals near you or in the distance. There are many excellent, affordable binoculars in the market. A good set of binoculars should always be with you when you set out for hunting.
Hunting equipment
You must make a list of things you need for hunting. Gather all the equipment you need in your game bag. Here is a list of things you would want to include in your bag:
Your weapon – Rifle or Crossbow

If you are using a rifle then ammunition or arrows if you're using a crossbow

Rangefinder

Quiver

Knife

Night vision binoculars

Food and water

Camera

And lastly, first aid kit
Find a spot and have patience
You should find a good spot from where you can get the view of the open terrain. In the night, it will be difficult to see your prey. It will be an advantage if you can get a clear and broader view. If you're hunting in a group, stay close to each other and hide between the trees. Find a spot that is elevated to give you a better view of the terrain.
Once you're settled in a comfortable spot with a good view, wait patiently. It can be a long wait before you get your first prey. A hunter must have the patience to finally receive the well-deserved reward.
Hunting should be fun. Once you decide what you want to hunt, go out there and be one with nature. It is also crucial to know when the hunting time is. There are times when animals are out there in huge numbers, while at some time of the year they are less in number. Plan your hunting trip when there are a good number of animals out there.
Also, don't fail to learn about the regulations in your state. Find out if there are any restrictions to hunting a certain type of animals, number of animals, and hunting during certain season. Once you find out the state regulations and laws, you should be confident to go out hunting.  Just be out there and enjoy hunting!
---