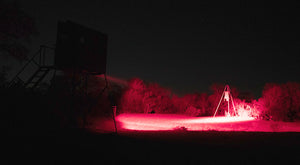 The Guide to the Best Hog Feeder Lights
Hog Feeder Lights are a great option for night hunting wild hogs. If you're able to choose the right light, it will illuminate the pigs without spooking them. Many hunters use them for rifle hunting hogs, but others may even used them for bow hunting hogs. There are several key features to buying the best feeder lights for hog hunting, which must be designed for a hogs characteristic flaws as well as usability for hunters. If you take the best hog feeder light and combine it with wild hog bait attractant, you are bound to have far more successful hog hunting trips.
 The Best Hog Feeder Lights
The best lights are more than just feeder lights for hog hunting, they are well-thought out to give the night hunter every advantage possible. As discussed in the science behind choosing a red or green light for night hunting, the best hog feeder lights will naturally work well for night hunting other animals including but not limited to coyotes, bobcats, coons, and other varmints. The same tactics are presented in the guide to buying the best hog hunting lights, which is taking advantage of the color blindness in dichromate vision animals. Combine an optimized light wavelength with adjustable intensity, and you'll soon realize how effective hog feeder lights can be. 
Hog Feeder Lights | Mounted to Deer Blind
Feeder lights for hog hunting don't always have to be mounted to the hog feeder itself. We've found that you can often light up the area much better if you opt to use a light such as the Predator Cannon Hunting Light for hunting hogs at night. This light bar can easily be mounted to your hog blind with the standard side-mount brackets it comes with or with under-mount brackets.
Hog Feeder Lights | Mounted to Deer Feeder
Mounting hog hunting feeder lights to deer blinds is not very common, but it is more effective in our experience because you can illuminate a more broad area. The more common method is to mount hog feeder lights to deer feeders. 
Hog feeder lights that are mounted to the feeder itself are typically remote control, motion activated, or utilize a photocell to turn on and off. We have tried all of these different features, and they each have their advantages and disadvantages.
The photocell and motion activation are nice hands-off features to have, but the problem with these is that if you have any small amount of wind that can move branches or grass, it can trigger the motion sensor. This can cause your light to drain your battery and if it's powered by the feeder battery, then it will stop your feeder as well. 
The remote control feature is our personal favorite feature because you have complete control of the light, and you are not relying on sensors which can be improperly controlled by Mother Nature. Hog hunters can easily turn the light on or off and increase or decrease brightness via remote control. Remote control hog feeder lights make for the best experience with the least headache in our opinion. 
Power Supply for Hog Feeder Lights
Most hog feeder lights are going to run on a 12 volt DC battery. There are many solar powered options out there which do a great job at recharging the battery during the day. It's important to note that the solar panel must be rated for the power output of the light you are using. If you want a bright light where you can actually see the hogs in-front of you, then it is probably going to take a larger solar panel than most. 
Light setups that run on small deer feeder batteries are not going to be very bright. Naturally, small deer feeder batteries have limited power output and therefore they can only support so much light. If you want something bright, I would consider higher wattage lights that can run on a conventional deep cycle battery. 
We've seen some creative setups where people mount large solar panels to the top of their deer blind and power their hunting lights, heaters, and more from a deep cycle battery that is recharged by these panels. This is a great option for hunters who are frequently in the deer stand, but can certainly be costly. 
Outrigger Outdoors is your trusted source for all things hog hunting. To learn more about hunting hogs at night, check out our complete guide to hog hunting. For hog feeder lights and accessories, check out our selection of hog hunting lights. 
---