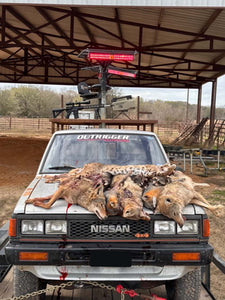 Predator Cannon Hunting Light Mounting Ideas
The Predator Cannon Hunting Light is one of the strongest and most diverse lights that can be used for predator hunting, coyote hunting, hog hunting, varmint hunting, coon hunting, and many other methods of night hunting. The optimized wavelength illumination allows the Predator Cannon to take advantage of the color blindness in most target night hunting species. These species include hogs, coyotes, bobcats, varmints, coons, pigs, dogs, and many more placental mammals. Combine this with the adjustable intensity, and this predator hunting light is second to none in terms of short- and long-range performance.
Predator Cannon Hunting Light Uses
Special thanks to Kade Woods for the kind words after he and his wife laid down their first big coyote "These lights are legit man. Changed the game big time."
We recommend night hunters use our light bar similarly to how Kade has his mounted his on his high rack. If you attach it to your seat so it swivels as you swivel, it gives you a lot of flexibility in lighting up an entire field, not just lighting up one direction of the field. The dimmable controls will help you dial in the intensity so you can see the coyote well without spooking it. 
Coyote Hunting Light | Predator Hunting Light
Whether you are hunting coyotes, bobcats, or any other predator, they are constantly on the move. Attaching the Predator Cannon Hunting Light Bar to a shooting chair on your high rack is one of the most versatile setups we have seen.
Usability is key, but it's equally important to be able to illuminate an entire field rather than one small spot like you'd get with a rifle scope light or handheld light. Pair two together in one high rack and you're sure to easily scan 360 degrees with your hunting partner to locate more predators. 
Coyotes typically travel in packs, and the last thing you want to do in the middle of a tournament is only shoot 1 coyote when you could've had 3. We've heard several stories from guys running thermals who were following a coyote through a pasture with their thermal, then hit it with their predator cannon light bar and see several more sets of eyes pop up.
The red light is highly reflective off a coyote or bobcats eyes, making it real easy to quickly identify an incoming predator. The intensity is adjustable for confirming the animal prior to dispatching. 

This photo was taken from a predator high rack on-top of a side by side UTV. Here is another photo of Predator Cannon Hunting Light Bar's being mounted to the ATV of TO Outfitters, in West Texas. 
Here's another side by side / ATV high rack with shooting chairs.


Another great option for predator hunting that we have seen is using the hunting light bar as a scanning light by mounting it with a computer screen monitor. Here is a really cool photo one of our supporters sent us. 

This setup can work very well for getting the most use out of your Predator Cannon. It can light the road up ahead as well as be used to scan around the pasture at night. 


High Rack Lights for Predator Hunting
As the payout for predator hunting tournaments across the nation continue to rise, having an optimal light setup has become even more important. The ability to quickly scan a large field, with your gun ready to shoot, is key to putting more predators on the ground. One of our customers in San Angelo, Texas (PredatorRacks.com) built this high rack with a Predator Cannon Hunting Light Bar mounted to the shooting chair for quick scanning purposes. 


Here's a predator high rack used for the West Texas Big Bobcat Contest, with a Predator Cannon mounted to the shooting chair for quickly scanning fields and pulling off long shots. Credit to Nick Kolster with Kolster welding. 
One of our supporters from South Texas mounted his Predator Cannon Hunting Light Bar to the front of his high rack to see what's ahead long range. 


ADDITIONAL HIGH RACK PHOTOS USING PREDATOR CANNON LIGHT BARS:

Predator Cannon Shooting Chair
The most efficient method of predator hunting at night is to turn your light guy into a shooter. The best way to do this is to integrate a quality long range light into your shooting setup, in a way that is able to quickly scan fields. 
That's exactly what we have in this shooting chair, designed by PredatorRacks.com.

Here are some more shooting chairs with the Predator Cannon Hunting Light Bar installed:
Police Car Spotlight Mount Turned Predator Cannon Hunting Light Bar
We see a lot of creative ways people mount our Predator Cannon Hunting Light Bars. This setup was sent to us by a customer who mounted his Predator Cannon Hunting Light Bar to the roof and has it on an actuator to turn the light side to side and swivel up and down, with the dimmable light controls mounted inside the cab. It appears he used a police car spotlight base configuration to make this work. 
Hog Hunting Light | Hog Feeder Light
Hogs are often hunted underneath deer feeders as well as throughout pastures. The Predator Cannon Hunting Light makes for one of the best hog feeder lights by simply mounting it to the bottom base of your deer blind. The adjustable controls can be run through the blind window for adjusting the intensity of this LED hunting light. Unlike most hog hunting lights, the Predator Cannon does a great job at providing a close-range wide flood as well as a long range flood. Whether your feeder is 30 yards away or 300 yards away, the Predator Cannon makes for a great feeder light for hog hunting.
This photo was taken of a deer blind that has a Predator Cannon Hunting Light attached to the bottom of its base. This blind setup is for bow hunting hogs at night. 
This is a setup for hog hunting at night. It is the same setup as above for bow hunting hogs, just a different camera angle. The Predator Cannon Hunting Light is at maximum intensity to show the brightness, this hunting light can be dimmed down to a very small portion of this intensity for locating hogs and seeing what's under the hog feeder. 
Driving Light for Night Hunting
The 52" Predator Cannon Hunting Light Bar easily mounts to ranch trucks, daily drivers, and even high racks. The long range beam and dimmable functionality are key to turning any vehicle into a hunting vehicle that can roam around the pastures undetected. 
Scanning Light
We hunt predators tournaments of all sizes, from small local tournaments to large state and national tournaments. This can call for a setup that is extremely mobile, and we've found that utilizing a tripod as a stand for the hunting light works very well. We are currently developing a turn-key solution to this, but for the time being this will certainly get the job done.
In this particular photo we were on-the-go and had very little time to setup a permanent solution. If you look closely, you will see that we used duck tape to tie the predator hunting light down at the mounting brackets, but I must say we never had problems with it coming loose! 
Another rotational method we've seen customers utilize is to attach a bolt with a spring to the bottom of the light bar. This allows it to move freely, yet has enough tension on the light from the spring to hold its position when it's let loose. 
This is a side profile of the high rack showing how the light appears to be fixed mounted to the side. In reality, it's hinged in the center to a bolt which has a spring attached to it. Here's some more up close photos. 

All-Around Night Hunting Lights
Whether you're trying to get to your hunting spot early in the morning and don't want to spook the animals around you, or enjoy night hunting for coons, varmints, and other critters, the Predator Cannon Hunting Light works great for them all. The LED hunting light comes with side-mount brackets that will fit most vehicles and under-mount brackets are available for purchase separately for the tight-fitting spaces. 
This is a photo from a customer who uses this jeep on his deer lease. They use the Predator Cannon Hunting Lights for night hunting and they also use them for getting to their deer stand early without spooking the area. The adjustable intensity of these predator hunting lights is key to being able to see what's ahead without spooking animals. 
We encourage you to send us your setups of your Predator Cannon Hunting Lights and we'd be happy to post them here and/or share to our social media pages. Shop the Predator Cannon Hunting Light and more LED hunting lights today!!
---
1 comment