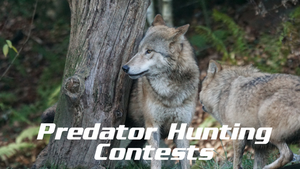 It's Tournament Time!
As deer hunting comes to a close and the temperatures continue to drop, predator hunting contests come around in full swing. Most predator hunting contests occur between January and March. As a tribute to the start of contest season, we are focusing this week's blog on tips and tricks to help succeed in your local coyote calling contest.
Quick Tips to a Successful Predator Hunting Contest
LOTS OF PRIVATE LAND – Most people don't have access to thousands of acres for coyote hunting, but that shouldn't stop you. When our founder first started hunting contests at the age of 18, he built a portfolio of nearly 10,000 acres of private land to hunt by sending letters in the mail to local farmers and ranchers. The letter began with some background information on himself followed by additional research he had done on coyote behavior during this time of year to inform them the positive impact hunting coyotes on their land would bring. Most local cattle ranches had bad coyote problems and were glad to let him hunt their land. Others were more skeptical about letting a stranger on their property. It is important to realize most people have no reason to trust a stranger, so keep in mind to put on your best behavior and ensure them you will take every precaution to leave their property in better condition than it was before you went there (of course don't just say it, DO IT!). Last but certainly not least, ALWAYS send a thank you letter to the landowners who give you the opportunity to hunt their land.
LONG RANGE RIFLE & SHOTGUN – Contests have a wide variety of rules, but if allowed, your top two tools should be an accurate long range rifle and shotgun. I can't even tell you the number of times I've been calling on a fence line and have had coyotes cross 10 yards in front of me on a full sprint. That's a real low percentage shot with a rifle, make sure you have quick access to a dependable shotgun. I don't recommend using bird shot either, use 00 buck or similar if available. On the contrary, I've also had coyotes standing and watching my decoy from 200 yards but not committing to coming closer. A good long range rifle with stabilization to take the shot will be your best friend.
DEPENDABLE LIGHTS / NIGHT VISION (24 HOUR & NIGHT HUNTS) - Most contests in our area do not allow night vision. We traditionally are only allowed to use lights to illuminate predators. A good long range red/white light is beneficial for hunting open fields, and a bright red/white flood light is going to be your best friend for hunting the woods or enclosed areas. Our area has a combination of both, but we've had the most luck hunting  right on the outside of a heavily wooded area. We typically set up a couple Red Eye Predator Hunting Lights to illuminate ~150 yards of the transition from wooded area to open field. We will leave the lights on bright red and will call from the middle of the field. As long as the light stays red and the intensity doesn't fluctuate, we have had great luck calling coyotes out of the woods for a clean, visible shot.
A GOOD HUNTING PARTNER – You might be outfitted with the best gear and thousands of acres of prime coyote land, but if you don't have a trustworthy and dependable partner who you can rely on, you won't be taking home the gold anytime soon. It is important to be able to read your partners body language, understand their tendencies, know their strengths and weaknesses when it comes to predator hunting, and most importantly trust with all of your gear.
RELIABLE AND PROVEN CALL – Before spending money on a hunting contest, make sure you have your sounds down. Know what works, understand which sounds to play based upon coyote behavior. The easiest way to do this is to invest in a good electronic game call (e-call). Most e-calls these days have the ability to switch between hundreds of sounds and some even have sensors to automatically change from one sound to another when you take the shot. This will help prevent an injured or missed coyote from getting away. Effective sounds will differ from area to area, but the most universal one is a rabbit distress. There are about 10 different rabbit distress sounds we regularly use and some will be played for 45 minutes with no animals in sight, then we will switch to another rabbit distress and we will suddenly have a flock of buzzards, crows, and eventually coyotes coming in within 5 minutes. The proof is certainly in the pudding, just take the time to research what works in your area. A good start is to look at what coyote food source is most abundant on the land you hunt. We have an abundance of cotton tails in our area, so cotton tail distress works quite well.
---