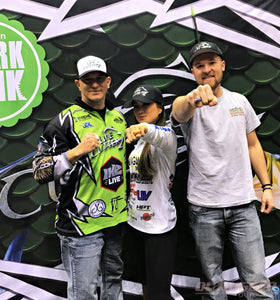 The Line Cutterz Experience
Line Cutterz
By Hunter Engelman, Modified Outdoors Bowfishing Charters
"To Invent, you need a good imagination and a pile of junk." – Thomas Edison. Vance Zahorski, the founder of line cutterz has created the most universal outdoorsman's tool in the 21st century that was first built with only some welding putty and part of a dental floss cutter. Now, it is created with corrosion resistant dual sided blades, and ABS Plastic. For those of you who have never heard of line cutterz, they created an adjustable ring to cut up to 100 lb braided fishing line with almost no effort at all! Since then, Line Cutterz has also came out with adhesive cutterz to stick onto your boat, vexilar, or bow for bowfishing.
I met with the line cutterz director of sales Darran Greene on February 9th at an outdoor expo in Lacrosse, Wisconsin to further discuss this product. My first impression was nothing short of astounded. The comfort was extraordinary, and the first cut I made was of 3 wraps of 100lb braided fishing line. I barely had to apply pressure for the cutter to do its thing! The ring I tried on was very well constructed, with standard dual surgical stainless-steel blades coated in titanium to retain element exposure. After bringing a few of these rings home with me, I attempted to cut AMS bowfishing 350# spectra bowfishing line, and was surprised the ease of the cut, and the lack of the typical frayed ends I'm used to. How else can you use this product? Here are just a few examples of how other customers used the Line cutterz product.
-        Attach the ring onto the handle of their fishing pole
-        Flat mount on the side of your kayak for easy accessibility
-        Flat mount on almost any part of your bowfishing boat!
-        Any mount on Boat rails, captains' dashboard on any boat.
A concern brought to my attention before meeting Mr. Greene was the lowered product quality after the day view on shark tank. Darran quickly put those rumors to rest and reassured me that the product quality has only increased with better Velcro being used, and an upgraded Stainless Steel Rivet used! We then discussed their all-encompassing brand, 'Pro fish gear". Pro fish gear is used to oversee any other products created, beyond the standard line cutter. To name a few of these products are a floating fishing net, handheld fish gripper, not to mention a customizable clothing line.
I've had way too many instances of carrying around a pocket knife attempting to cut AMS bowfishing braided line on a crowded bowfishing deck, then trying to weave that frayed end through a small AMS Safety Slide on the arrow. Vance Zahorski certainly knew a fisherman's struggle, and used that knowledge to eliminate those common issues with the construction of this ring. Rest assured anyone on the Modified Outdoors Bowfishing boat this year will get a chance to try out this ring.
To get more information on this product, head over to www.linecutterz.com and order your ring today. For more products to help you during your bowfishing and flounder gigging trips, browse our site today.
---