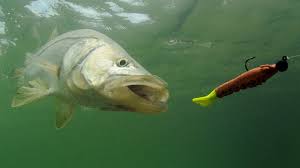 How To Catch More Snook Fish
Snook fishing is on the rise in Florida, their flaky white fillets combined with some lemon butter sauce are just about guaranteed to make any fish-eaters mouth water. We never set out to change the game in snook fishing, but inadvertently our underwater green fishing lights have earned the reputation of being called "snook lights" by our fellow Florida fishermen. In an effort to pass along the information we've learned through our experiences as well as the experiences of our customers, we've put together a complete snook fishing guide that teaches you how to catch more snook fish. 
How to Catch Snook
There's no better sure-fire way to catch snook than fishing dock lights. The best time to fish for snook is at night. They are highly attracted to the light, and there's no better way to have a bunch of snook in a tight area than to be night fishing over dock lights.
Dock lights provide two things: one is they are near a dock, which is structure. These fish are always around structures, so the best way to catch snook is to stay near the dock. The second, is they are highly attracted to the output of the light, so set up your underwater green fishing lights when you go night snook fishing. A true-green output seems to be most enticing but at the end of the day any light is better than no light in terms of best utilizing your snook fishing lights. 
Some may call the tactic of using green fishing lights for snook fishing analogous to shooting fish in a barrel or hunting a stocked high fence ranch. Call it what you want, but you're putting the odds in your favor to catch snook, so of course we included it in our guide that teaches you how to catch more snook fish! Here's a good article to learn more about what to look for in an underwater green fishing dock light if you decide to go that route. 
Catching Snook at Night
As we previously mentioned, an underwater green fishing light is the best method to lure snook in close. Once they are in the area, you still have to catch them though. So here's some good tips on what baits and lures to use for night time snook fishing. 
Snook Lures for Night Fishing
3 inch or 5 inch paddle tail swim bait lure
Glow in the dark is a plus but not a must-have - it is more likely to trigger a curiosity strike from snook than standard color lures. 
We prefer red color jig heads, but isn't a must-have. Blue, green, and yellow are all proven to work just as well. Red and pink are both shallow water colors while the others are considered deep water colors (red and pink will look black at greater depths)
Jig head size should be an 1/8 oz head if fishing from a dock, if fishing from boat in deep water can increase to 1-1/2 oz head. 
Snook Lures for Day Fishing 
3 inch or 5 inch paddle tail swim bait lure, stay away from glow in the dark color for day time. A chartreuse "yellow-green" color is our go-to for snook fishing. 
We run red jig heads universal, have had good luck with yellow jig heads as well. 
Jig head size Is same as night fishing - 1/8 oz for dock fishing and 1-1/2 oz for deep water fishing or fishing from boat. 
 Snook Baits for Day & Night Fishing
Shrimp 
Finger mullet
Pin fish
Crab 
Best Places to Fish for Snook
There are a total of 12 snook species and 5 of them are known to be present in the Florida waters. These species include the common snook, the small-scale fat snook, the large-scale fat snook,  swordspine snook, and the tarpon snook. Costa Rica and Florida are the top 2 snook fishing destinations in the world. 
Costa Rica holds the world record snook, while the Florida Fish and Wildlife Conservation Commission are committed to making the next world record snook catch happen in their waters. 
Top Florida Cities for Snook Fishing
The entire Gulf Coast of Florida has snook, but here are some of the top cities in Florida for snook fishing:
Monster Snook
Fort Myers, Jupiter and Boca Grande are the top 3 monster snook fishing destinations.
While the world record snook weighing in at 53 lb 10 oz was caught in Costa Rica, the Florida state record snook was caught in Fort Myers weighing in at 44 lbs 3 oz. 
Great Recreational Snook Fishing
Naples, Marco Island, Florida Keys, Destin, Vero Beach, Sanibel, Fort Pierce, Fort Myers and the Everglades are all good places to catch snook.
Best Time of Year to Go Snook Fishing
As goes with any fishing season, the best time of year to go (easiest time of year to catch them) is during the spawning season. The snook spawning season in Florida typically starts in April or May and continues through the end of September or October. The ultimate deciding factor comes down to the actual climate and temperature for that year. The warming water temperatures in April and May trigged the inshore run, while the cool temperatures in September and October trigger the offshore run. 
Snook can still be found outside of this window, especially with the use of Underwater Green Fishing Lights. Some of the biggest snook of the year will actually be caught in the winter months when most people are hunting rather than fishing. I can't tell you how many customers we've had bag some good sized snook on their dock at night and thrown it right on the grill in the middle of December. You can't beat the freshness of that seafood. 
---