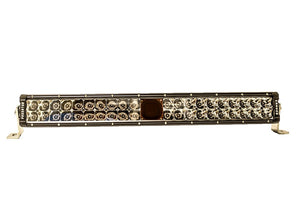 Outrigger Outdoors Introduces Ultra Long-Range Hunting Light
SEALY, TX - Outrigger Outdoors announced the Predator Cannon™ Hunting Light, introducing a powerful light bar with advance technologies for spotting animals at night. The Predator Cannon™ features edge-to-edge LEDs, engineered for the color blind spectrum of most mammals1. The lustrous reflector design illuminates entire fields while the central focus beam reaches out to ultra long-range distances. Designed for drawing out varmints and predators, controls for adjustable intensity come standard. Made for all night hunters, the versatile mounting capabilities are endless. Rugged side-mount brackets are included, with an added option for bottom-mount brackets for snug spaces. 
A New Light for Night Hunting
Inspired by a troubled farmer, the Predator Cannon™ was made to illuminate predators, varmints, and hogs ravaging crops and slaughtering livestock. A design focused on smart illumination allows the Predator Cannon™ to spot more animals while minimizing a hunters exposure. 
LEDs Made for Hunting
Manufactured from premium materials, the beaming red LEDs boast a soaring lumen-per-watt brightness with one of the most punishing colors to throw down range. 
Adjustable Intensity Controls for Pressured Territories
A resilient wiring harness with adaptable controls has become standard for Outrigger Outdoors, and the Predator Cannon™ is no exception. Hunters can effortlessly power on, off, or adjust intensity with a compact control module that fits in the palm of the hand. 
Industrial Grade Housing
A rugged housing is no surprise to a company known for taking a sledge hammer to their lights. The Predator Cannon™ foundation is built upon an aluminum alloy housing designed with extreme outdoorsman in mind. 
Competitive Pricing
Despite the advanced features, the Predator Cannon™ is priced lower than most premium grade light bars at $399.85 for the 24-inch model and $499.85 for the 52-inch model. 
To learn more about the Predator Cannon™ or Outrigger Outdoors' extensive line of outdoor products, please visit https://outriggeroutdoors.com or to get social please follow Outrigger Outdoors on Facebook, https://www.facebook.com/outriggeroutdoors/ or Instagram, https://www.instagram.com/outriggeroutdoors/ 
Outrigger Outdoors has revolutionized the flounder gigging and bowfishing industries with their color tone adjustable lighting options made to enhance visibility in clear or muddy water. Today, Outrigger Outdoors continues to focus on providing value to outdoorsman with the release of their Predator Cannon™ Hunting Light. 
Contact
For all inquiries please contact us here: info@outriggeroutdoors.com 
1Statement refers to placental mammals (dogs, cats, pigs, etc.) with protanopia dichromatic vision.
---