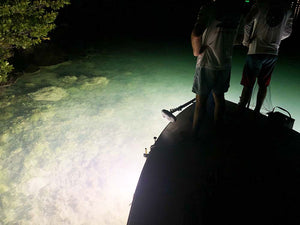 Bully Netting & Lobstering: How To Find the Best Lights
Bully netting and lobstering season is upon us, and finding the best bully netting lights has never been more essential. Let's talk more into detail about how to find the right lights for you.
These are tips to consider whether you're a recreational bully netter or even doing it commercially. We've gathered feedback from both over the years and are happy to share with you how our customers have found the best bully netting lights.
Underwater or Above Water Bully Netting Lights?
There are two ways people run their bully netting lights: above water and below water. Both mounting methods have their benefits.
Above Water Bully Netting Lights
 Shines further out, light travels further through air than water.
Great for shallower areas <3 ft deep
Does not penetrate as deep as underwater lights, loss of light due to reflection off the water
Attracts bugs
Mini Swamp Eye Submersible or Swamp Eye Light Bar are both great above water bully netting lighting options
Below water Bully Netting Lights
Shines deeper and lights up the bottom better than above water lights
Closer to the lobster, offers better clarity
Swamp Eye Submersible is one of the brightest and toughest underwater bully netting lights available. (2x Swamp Eye Submersibles are mounted to boat with boat adapter poles in photo above)
Which is Better?
We've found that most commercial bully netters and many recreational bully netters prefer to run their lights underwater. Some will run both above and below water, but if you're limited to one option—underwater is better.
When finding the best bully netting lights for underwater use, it's important for the lights to be able to hold up to whatever foreign objects they may hit while being underwater, so a tough light like the Swamp Eye Submersible or Mini Swamp Eye Submersible is very important for great longevity. These two lights were made to run underwater in a saltwater environment.
If you want flexibility, the Mini Swamp Eye Submersible is one of the best quality and most versatile bully netting lights available. We've seen people literally take a sledge hammer to this light, and it held up just fine. 
How to Best Light Up Spiny Lobster
Bully netting for spiny lobster is primarily done in the Florida Keys, which has crystal clear water. There may be some pockets that have a little muddier waters, but for the most part it is a pretty clear area. It's best to use a cool white (6000k) LED light when bully netting in the Keys; or even one that's color tone adjustable so that when you get into muddier waters, you can adjust to a more warm white color to increase visibility. 
The Mini Swamp Eye Submersibles are available in warm white or cool white, while the Swamp Eye Submersible, Swamp Eye Light Bar, and Swamp Eye HD are capable of adjusting color temperature on the fly. This means you can use them in clear pockets or muddy pockets of water, and adjust the light as you need. 
 To learn more about bully netting lights and see some lobstering light setups, check out our blog on the Ultimate Lights for Bully Netting and Lobstering. Otherwise, here are some great bully netting lighting options. 
If I had to choose one bully netting light out of all of them, for bully netting in the Florida Keys, I would choose the Swamp Eye Submersible Solid Color 6000k Light. It's extremely bright and is the most optimal color you need for the Florida Keys to see more lobster. 
Here's a selection of Bully Netting Lights and related products:
---
2 comments