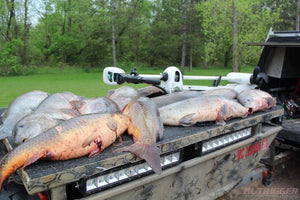 Mounting Ideas for Your Swamp Eye Bowfishing Light Bars
The Swamp Eye Light Bar is one of the most trusted bowfishing light options there are. We've been fortunate enough to have our supporters send us photos of their flounder gigging, fish gigging, and bowfishing boat setups with their Swamp Eye Light Bars. (Please scroll down to the bottom to see the different boat setup photos.)
Bowfishing Boat Lights
The Swamp Eye Bowfishing Lights are most commonly used on bowfishing boats of all makes and sizes. The setups we see vary across the board, but the single most common bowfishing light bar setup is 2 lights across the front of the boat and 2 lights down each side of the boat. That's a total of 6 bowfishing lights, which can run for ~8.5 hours on a 2000W generator. Some folks will run them off two or three 12V DC deep cycle batteries, and they may get 4-5 hours or better.  

Flounder Gigging Boat Lights
The Swamp Eye Light Bars and Swamp Eye Submersibles are both common for flounder gigging, but for those looking for an above water gigging light option - they work great. The flounder gigging crowd typically has a smaller sized boat in comparison to the bowfishing crowd, so they are able to get away with 3-4 Swamp Eye Light Bars. The most common setup we see is either 1 or 2 light bars across the front, and 1 light bar down each side. Most flounder giggers will supplement the Swamp Eye Light Bar with a Swamp Eye Submersible at each front corner of the boat. This isn't absolutely necessary, but it certainly helps light up the bottom in muddy water. 
Fish Gigging Boat Lights
The fish gigging crowd are strong advocates of the Swamp Eye Light Bars. Their boats are sized similarly to most flounder gigging setups but they do not run underwater lights. The reason for this is because it is unlawful to use underwater lights for gigging in several freshwater lakes they gig in. Fish gigging is done across the nation but the most popular locations are the lakes near the Ozark states of Missouri, Oklahoma, Arkansas, and Kansas. 
Lights for Bowfishing and Gigging from a Kayak
Boats can be large in size and cumbersome to haul around to different spots, which is why bowfishing and gigging in kayaks has become more popular. Believe it or not, the Swamp Eye Light Bar has been mounted to kayaks on several occasions. Most of the time our customers are looking for a portable boat they can throw on top or in the back of their car / truck / SUV and be able to hit the water to scratch the fishing itch.

Photos of Mounting Ideas for Your Swamp Eye Light Bars:


   
 
                  

                                                                                                             
---
8 comments